ISLAMABAD, Pakistan: The Chief Executive Officer (CEO) of the Pakistan International Airlines (PIA) Air Marshal Arshad Malik held a meeting with Prime Minister Imran Khan in Islamabad on Friday.
The CEO PIA briefed the prime minister regarding ongoing negotiations with the European Union Aviation Safety Agency (EASA) to ensure PIA flight operations for Europe.
Arshad Malik also briefed the prime minister regarding the restructuring of PIA so as to make it a profitable and leading airline.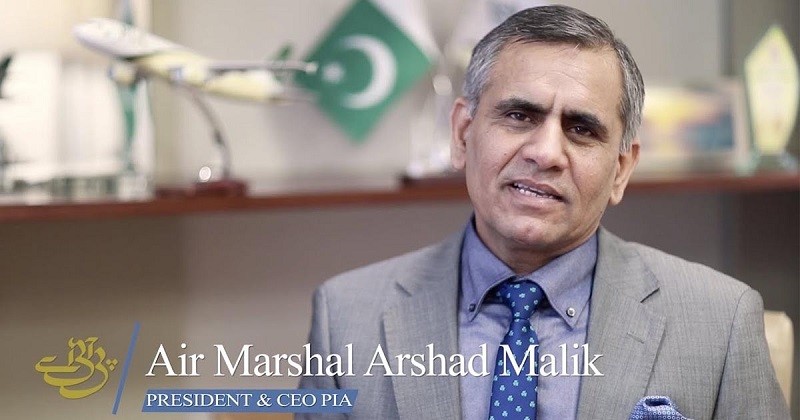 The prime minister directed to expedite the restructuring plan in consultation with his Advisor on Institutional Reforms Dr. Ishrat Hussain and to present a framework in a week time.
Imran Khan emphasized that our government has adopted across the board reforms agenda to make institutions efficient and service-oriented.
Last Tuesday, the Federal Cabinet approved the continuation of service of the CEO PIA Air Marshal Arshad Malik for further three years on a deputation basis after his retirement from the Pakistan Air Force (PAF) on July 12.
اسلام آباد:وزیراعظم عمران خان سے پی آئی اے کے سربراہ ائرمارشل ارشد ملک کی ملاقات
ارشد ملک نے وزیراعظم کو پی آئی اے کے یورپ کیلئے فلائیٹ آپریشن سے متعلق بریف کیا
سی ای او نےادارے کو منافع بخش بنانے کیلئے پی آئی اے میں اصلاحات کےبارے میں بھی بریف کیا pic.twitter.com/ZW3ZlGMl3Z

— PTV News (@PTVNewsOfficial) July 10, 2020
مشیراصلاحات سے مشاورت کےبعد ادارے میں تنظیم نو کیلئے ایک ہفتے میں رپورٹ پیش کیجائے:وزیراعظم
حکومت اداروں میں بلاتفریق اصلاحات کے ایجنڈے پر عمل پیرا ہے:وزیراعظم pic.twitter.com/ljFEJA6LNI

— PTV News (@PTVNewsOfficial) July 10, 2020