LAHORE, Pakistan: The Centre for Social Justice (CSJ) in collaboration with Beaconhouse National University (BNU) will organize a Conference on "Right to Religious Freedom in Pakistan in the light of Constitution 1973, Article 20" in Lahore on Thursday.
The attendees of Conference will be lawyers, journalists, activists, educationists, and opinion makers.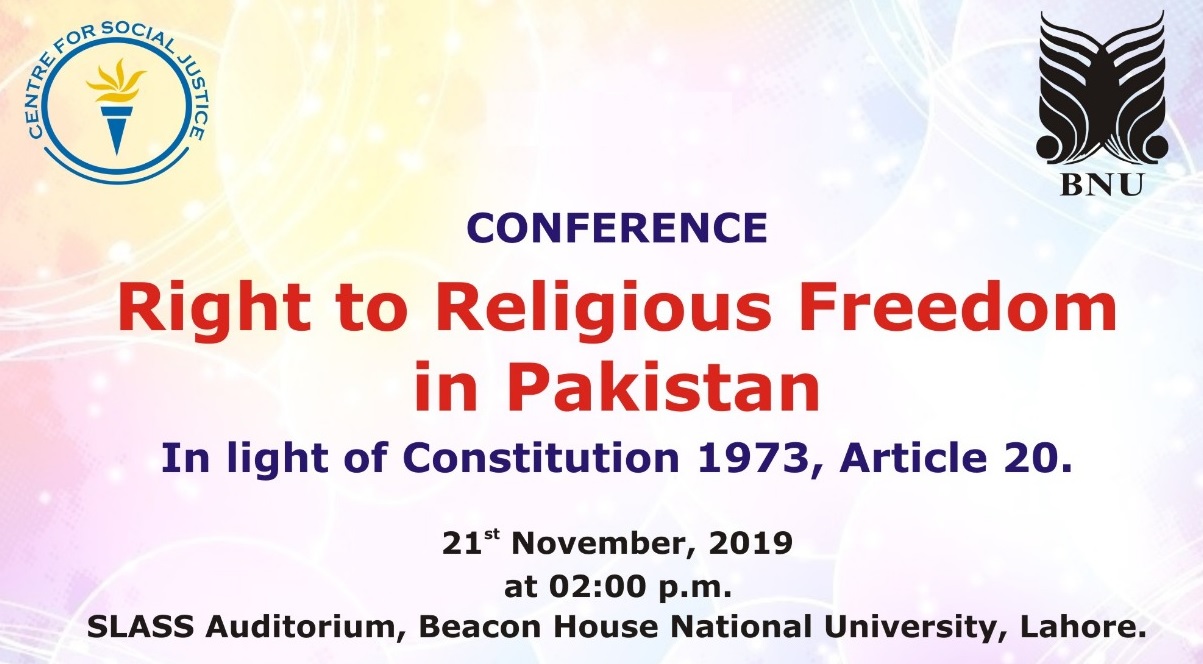 The Conference will begin with the Opening Remarks by the Executive Director CSJ Peter Jacob and the Pakistani Historian at BNU Dr. Tahir Kamran in which they would define "Religious Freedom in Pakistan: Issue and way forward".
The Jurist & Law Professor Justice Nasira Javed Iqbal and the Research Lead & Project Advocacy for Religious Freedom in Pakistan at CSJ Najam U Din will shed lights on "Legal, societal issues impeding Religious Freedom in Pakistan".
The Religious Scholar & Columnist Sahibzada Amanat Rasool, the Punjab Auqaf & Religious Affairs Minister Syed Saeed Ul Hassan, and the Religious Scholar at Al-Mawrid Research Institute Dr. Khalid Zaheer will speak on "Quranic concept of religious freedom".
The Political Analyst & Columnist in Daily Jang Wajahat Masood and Muhammad Khashih Ur Rehman will speak on "The impact of regional trends on the understanding and practice of Religious Freedom in Pakistan" followed by a Question Answer Session.
In the end, the Punjab Minister for Human Resources & Minority Affairs Ijaz Alam Augustine and the Vice Chancellor Beaconhouse National University Dr. Shahid Kardar will make the Closing Remarks.