ISLAMABAD, Pakistan: The Central Asian States have expressed interest in the import of pharmaceuticals from Pakistan.
However, they expressed reservations on high taxation and unavailability of road/railway connectivity. In addition, there are no direct flights that operate between Pakistan and Central Asia.
The interest was shown by the visiting delegates from Tajikistan, Turkmenistan, Kazakhstan, Kyrgyz Republic and Uzbekistan who visited the Ministry of Commerce in Islamabad on Thursday where they were given presentation on Pakistani culture and heritage.
Over their reservations regarding lack of direct linkages between Pakistan and Central Asia, the Ministry of Commerce vowed to eradicate these problems.
In the Ministry of Commerce, the participants deliberated on the top import and export products of Pakistan and the trade opportunities between Pakistan and Central Asian region.
The delegates also visited the Board of Investment (BoI) where they were given a briefing by the BoI Officials.
During the meeting, future business prospects and collaboration opportunities were discussed between Pakistan and Central Asian States. Several proposals were also presented by the delegations of each Central Asian State. Special Economic Zones (SEZs), Investment Plan in Pakistan was proposed during the discussion.
Furthermore, education exchange programs/scholarships for the students from Central Asia in the top universities of Pakistan were also discussed.
Later, the delegates visited the Ministry of Foreign Affairs where they were briefed by the Foreign Secretary of Pakistan Tehmina Janjua on how Pakistan and Central Asian States are related through deep rooted cultural and religious bonds. The geo-strategic location of Pakistan is of great significance for the Central Asia. Both the sides wished to work together and stay committed to work closely in future also.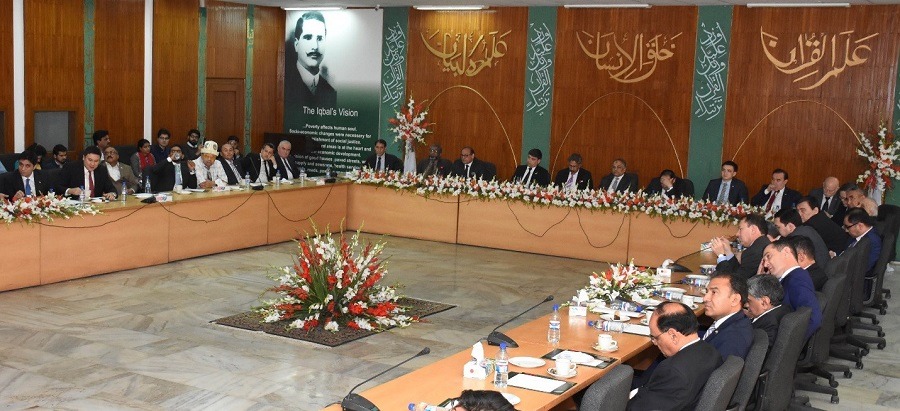 This meeting was proceeded by briefing of the Ministry of Planning, Development and Reforms.
The delegates were given presentation on how China-Pakistan Economic Corridor (CPEC) can be beneficial for the Central Asian States.
Later, the Central Asian delegation attended a meeting at Federation of Pakistan Chambers of Commerce & Industry (FPCCI) where a detailed discussion was carried out on the promotion of multilateral/bilateral trade and economic cooperation between Pakistan and Central Asian Republics (CARs).
All the visiting delegates also held bilateral meetings with the National Security Advisor of Pakistan Lt. General (retd) Nasser Khan Janjua. During the meeting, discussion focused the regional security and stability.
The visiting delegates comprised following members; Baidoletov Nuradil Esenbekovich, Dr. Colonel Kaana Aidarkul, Dr. Kubanychbek Idinov and the ambassador Erik Beishembiev from Kyrgyz Republic; Georgiy Dubovtsev, Lessya Karatayeva Kapataeba, Irina Chernykh, Adilkhan Gadelshiyev, the ambassador Barlybay Sadykov and the Charge D' Affairs Ashkat Bekishev from Kazakhstan; Ikramov Adham Ilhamovich, Saifnazarov Sahib Ismailovich, Sharahmetov Sharruh Shaturgunovich, Mustafayev Bakhtiyor Rasulovich and the ambassador Furqat A. Sidiqov from Uzbekistan; the ambassador Sherali Jononov from Tajikistan; and the ambassador Atajan Movlamov from Turkmenistan.