ISLAMABAD, Pakistan: The Centre for Aerospace & Security Studies (CASS), an Islamabad-based independent think tank, will organize a Webinar titled "China-India Standoff: Implications for Regional Security" on June 18, 2020 as the two Countries are locked in another military crisis at the Line of Actual Control (LAC).
In the Webinar, the Speakers will include the President CASS Air Chief Marshal (retd) Kaleem Saadat, the former Defence Secretary Lt General (retd) Naeem Khalid Lodhi, the former Foreign Secretary & Director CASS Ambassador Jalil Abbas Jilani, and Defence Editor at The Economist (UK) Shashank Joshi.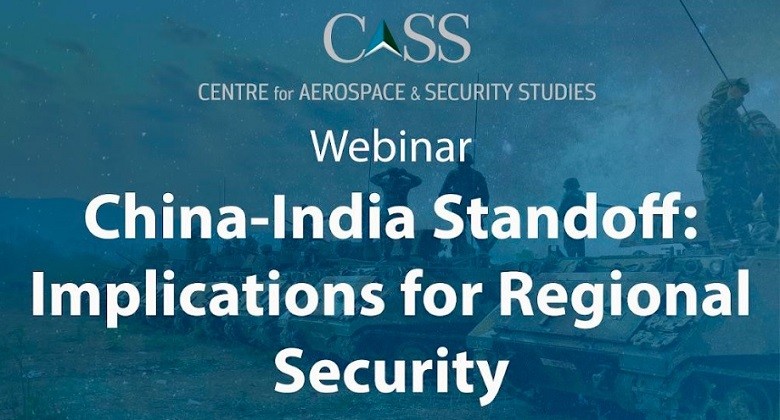 The China's People's Liberation Army (PLA) has reportedly captured 40-60 kilometers of the disputed territory along the LAC and is consolidating its position in response to India's earlier attempt to build road infrastructure.
The recent crisis is different from the past ones in terms of intensity and magnitude.
India is trying to portray Chinese action as an attempt to deflect attention from its 'alleged' mishandling of COVID-19 pandemic but it seems to have been triggered by India's decision to build permanent infrastructure in the disputed territory after revocation of Article 370 and subsequent change in the status of Ladakh by making it a union territory in 2019.
After initial denials, the Indian Defense Minister Rajnath Singh has acknowledged the Chinese incursions across the LAC.
The first round of military-level dialogue on June 6, 2020 remained inconclusive, nevertheless, India continues to downplay the situation with an expectation that the issue would be resolved through a dialogue.
While both China and India have demonstrated restraint by avoiding further escalation, there is a likelihood that this will continue to remain a contentious issue for both sides as China is unlikely to back down and India will continue to use it for its global political ambitions.