By Shazia Anwer Cheema
"The faith-followers of Europe are not ready to accept humiliation anymore and now they are demanding equal rights of freedom of expression and freedom of speech being enjoyed by those who are non-believers".
These observations came out from the Intercultural and Interfaith Dialogue "Building Trust Among Future Communities" that was organized by the Institute of International Relations Prague (IIR) in collaboration with the Ministry of Foreign Affairs of the Czech Republic, and Anna Lindh Foundation and Organization of Islamic Cooperation on November 11, 2021.
The Dialogue was attended and participated by top international scholars, academicians, policymakers, civil society, and faith-based organizations and officials of the United Nations and Organization of Islamic Cooperation OIC to deliberate the use of interreligious dialogue as a policy tool for building trust within diplomatic negotiations, in state-society relations, as well as among different cultures. The dialogue (Conference) brought perspectives from interpretations of different religions (Islam, Christianity, Judaism) to enrich the theme of building trust in relationships.
The Dialogue that I attended gave me an understanding that followers of Abrahamic religions are not accepting humiliation of any religion and now they are not ready just to sit quietly and let others disgrace their religious teaching under the pretext of "Freedom of Speech" and Freedom of Expression.
The participants were of the view that religious institutions are crucial for UN Security Council meetings; political parties are going for elections on religion-based agendas so it is ironic that UNSC meetings do not involve religious representation when the matters are related to hate speech, tolerance, and interfaith harmony.
Imam Salahuddin Barakat, Founder of The Islamic Academy of Sweden and Co-founder, Co-director of Amanah showed the picture of a mosque that was burnt down by Islamophobics and stated that after this unfortunate incident, the authorities of the Norway government, the Mayor of the city, local Rabbi and local priest all came together in a mosque to show solidarity with Muslims.
Imam Salahuddin Barakat stated that the incident of burning the Holy Quran was unacceptable for all the faiths and religions and all faith communities dealt with the issue by including local government, police, member of civil society, the member Jew, Christian and Muslim communities.
He also quoted that the idea and force behind the gathering were "where they burn books –they ultimately burn people".
During the conference, I noticed that the west is facing the crisis of inorganic secularization due to that believers find themselves alienated and they either consider themselves victims of the problem or part of the problem.
Prof. Olivier Roy, European University Institute provided insight into religious diplomacy by putting emphasis that religion is the victim of political ideologies. In western society, religions have transformed into cults and these cults are disconnected from the civil authorities and civil governments.
Prof. Tomáš Halík, Charles University, Czech Christian Academy explained that humiliation and destruction of religious objects and ideologies is providing a vacuum fumed with hate and could be filled by non-civil/civic components
Chief Rabbi David Rosen, AJC – American Jewish Committee, Interreligious Affairs said that religion is (was) by the production of human Evolution and Survival techniques and can not be treated as binary opposition in modern explanation. Religious is not culture or society rather it is persuading who we are and circle back to the first most important component of human survival "security"—the security of family leads to the security of community and security of community forms the security of society and when these components are threatened, the idea of othering take shape in the form of hatred and isolation.
Speakers were of the view that individual isolation is (was) an unhealthy social phenomenon a direct outcome of labeling a stereotyping of self-righteousness meaning by if everyone starts thinking that he himself is righteous and all others are demons and such mindset creates mistrust and the worst form of religious abuse.
"The believers of today specifically of Abrahamic tradition feel threatened, creating fertile land for cunning and opportunist minds to sow the seeds of hatred and divisions. This happened with Jews and this is happening with Muslims. Religion is not a cause for any conflict and unbiased feeling of all the world's conflicts reveals power and hatred as the basic sources of the conflicts," expressed participants.
Speakers emphasized conscious investment upon interfaith harmony and building trust between the state and society of the participants. Interfaith initiations are growing in Europe including participation planning and interaction between different faiths. They were of the view that the theological and religious dialogues are instrumental in domestic politics and societal harmony.
Miguel Moratinos, United Nations Under-Secretary-General was of the view that "tolerance" is a negative term and it must be replaced with the word "respect".
"It is something like I am tolerating you that is why I am living with you or on the other hand if we think we are respecting another human being just on the basis of being human can erase all the negativity from the situation. I particularly hate the word security and even more the misuse of this word security. Security can lead to the ultimate destruction of humanity —- if somebody is not secure and threatened he or she is entitled to destroy everything around that can harm his or her security. The worst manifestation of security we had seen in Afghanistan. The word Security must be replaced with the word Peace," he added.
Interestingly on his linguistic hate list, there were two other words —"Minority" and "Coexistence". He suggests we must stop the use of the word "minority" instead we can replace it with the word citizenship, the member of any minority is a citizen of the country and member of society so instead of putting them in to box no matter for sympathy or hate instead, they must be called citizens. Equality will come along with it. So far coexistence, we must replace it with living together. Coexistence requires conscious effort on the contrary living together is organic and automatic,".
During the third session, I was amazed to know that there are a series of dialogues happening between the Vatican and the Al Azhar University of Cairo. His holiness arch Pope Francis and Grand chancellor Al Azhar University are discussing the idea of freedom of expression and freedom of religious believes from perspectives of national security to human security and the document they have produced is called the Declaration of Human Fraternity. Next year they will have a conference in New York where non-religious stakeholders would be part of this conference.
Ismat Jahan, Permanent Observer of the Organization of Islamic Cooperation (OIC) said that the Istanbul process is very important and OIC expressed concerns over the Palestine issue. She said that the UN is becoming a victim of a bureaucratic system that creating hurdles for humanity.
Participants discussed at length that how powerful religion can (could) be in building trust among society besides giving hope and a sense of belonging to communities?
Speakers were of the view that religious identity is as important as identity of being a secular and local bodies (Local governments in European system) churches, mosques and synagogues must device intra-communication system for organizing events for promoting Religious Public Diplomacy. The sustainable social contract among different faith and communities is the need of the day and Abrahamic religions are not accepting humiliation of any religion
Speakers expressed their concerns regarding the use of Fake Media and Fake News that is fanning hatred among faith followers and stated that faith-followers must stand together to mitigate such loaded campaigns against religions.
The refugee crisis was discussed in the first and the second session and all religious scholars put emphasis on the element of hospitality. Speakers were of the view that the refugee crisis is (was) not the religious crisis rather it is (was) political crisis and the causes can also circle back to modern powers of secular society so showing hospitality is the least which can be done something for the victim's capitalism
Attending this Dialogue helped me to understand that "Trust" is a necessary element for advancing bilateral and multilateral relationships, including long-distance trade, and partnerships for social and environmental development; providing shared responses to the crisis, and preserving global peace. Throughout human history, people have continuously created and recreated trust relationships within and outside of their communities. A trust relationship is built when people feel confident that others will not abuse their own long-term valued beliefs, possessions, and resources. Reliance on and confidence in other people emerge not only when we learn to eradicate our prejudices against their differences, but also when we are consistent and transparent in our actions that aim for mutual understanding, consensus, and reconciliation.
The theme addressed in the first panel was the role that religious actors can play in building trust across different cultures within society. By examining this theme, the panel took into consideration religious actors' relationships to other stakeholders and their own religious communities.
The second panel focused on the joint role of civil society and religious organizations in building trust in state-society relations and presents potential action plans that can be developed between state institutions, civil society, and religious groups to increase citizens' participation in decision-making processes.
The third panel addressed the question of trust in diplomatic relations. It examined the mechanisms through which different faiths and interfaith dialogue can insert trust into diplomatic negotiations.
Speakers and participants of the Dialogue included:
Jakub Kulhánek, Minister of Foreign Affairs of the Czech Republic, Egemen Bağış, Chairperson of the Organization of Islamic Cooperation Prague Group, Ambassador of Turkey to the Czech Republic, Dr. Theresa Beilschmidt, Deputy Head of Interreligious Affairs and Society, Global Ethic Foundation and Prof. Patrice Brodeur, Senior Adviser, King Abdullah bin Abdulaziz International Centre for Interreligious and Intercultural Dialogue (KAICIID, Prof. Olivier Roy, Professor and Scientific Advisor to the Middle East Directions Program, European University Institute, Prof. Tomáš Halík, Professor of Sociology, Charles University, President of the Czech Christian Academy, Katerina Pekridou, Executive Secretary for Theological Dialogue, Conference of European Churches, Chief Rabbi David Rosen, American Jewish Committee, International Director of Interreligious Affairs  while Prof. Petr Kratochvíl, Senior Researcher, Institute of International Relations Prague moderated the discussion, Dr. Mathias Rohe, Professor and Director, Department of Civil Law and Civil Procedure, Friedrich-Alexander University Erlangen-Nurnberg, Adrian Cristea, Executive Officer of the Dublin City Interfaith Forum, Dr. Maria del Mar Griera, Associate Professor of Sociology, Universitat Autònoma de Barcelona, Imam Salahuddin Barakat, Founder of The Islamic Academy of Sweden and Co-founder, Co-director of Amanah – The Muslim-Jewish Partnership of Trust, Peter Kevin, Ambassador of Nigeria to the Czech Republic addressed the session while it was doderated by Dr. Cherine Hussein, Senior Researcher, Institute of International Relations Prague, Miguel Moratinos, United Nations Under-Secretary General, High Representative for the United Nations Alliance of Civilizations, former Foreign Affairs Minister of Spain, Dr. Sarah Wolff, Reader in European Politics and International Relations, Director of the Centre for European Research, Queen's Mary University of London, Dr. Georges Fahmi, Associate Fellow, the Middle East and North Africa Programme at Chatham House, Dr. Samuel (Muli) Peleg, Director of the International School at Oranim Academic College of Education expressed their views while Dr. Robert Řehák, Special Envoy, Ministry of Foreign Affairs of the Czech Republic moderated the Panel, Dr. Jan Šnaidauf, Director of Foreign Policy Analysis and Planning, Ministry of Foreign Affairs of the Czech Republic, Ambassador Mrs. Ismat Jahan, Permanent Observer of the Organization of Islamic Cooperation (OIC) to the EU, Hamid Reza Arshadi and Former Ambassador of Iran to Romania, Senior Advisor to the Institute of Political and International Studies (IPIS).
When I was leaving the space after attending the Dialogue, my perspective about faith-based organizations was much broader than before when I entered the space for attending this dialogue.
As a practitioner of Public Diplomacy, I believe that faith-based organizations can strongly help in renewing trust in intercultural and diplomatic relations in these times of anxiety and uncertainty, in which we experience rising levels of populism, polarization, and extremism on one side, and increasing levels of religiosity on the other.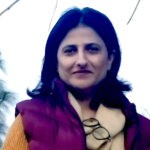 Note: Writer Shazia Anwer Cheema is a Prague-based foreign affairs expert who writes for national and international media. She is a doctoral student. Researcher in semiotics and philosophy of communication at Charles University in Prague. She heads the DND Think Tank. She can be reached at her: Twitter @ShaziaAnwerCh Email: shaziaanwer@yahoo.com