Domestic abuse often escalates from threats and verbal abuse to violence. While physical injury may be the most obvious danger, the emotional and psychological consequences of domestic abuse are also severe.
The practice of violence against women is deep-rooted in our society and even most women have accepted this violence as their fate. Studies and observations have proved that patriarchalism has led many Pakistani women to believe that domestic violence is normal or even at times justified. Pakistan Demographic and Health Survey conducted on 3,867 married or previously married women shows that 47% of these women agreed that beating of a spouse was justified if the wife had argued with her husband.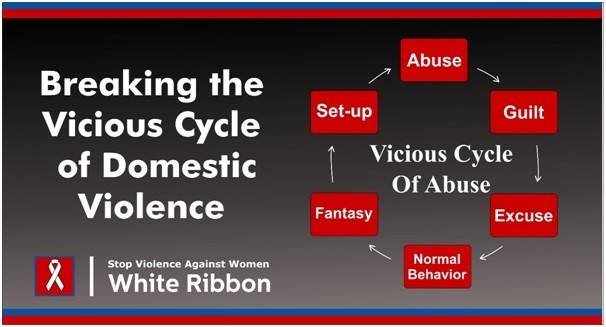 Domestic violence often occurs in a cycle. Understanding the cycle of violence (and the factors that influence it) is the first step towards breaking the cycle. Domestic abuse falls into a common pattern or cycle of violence:
According to the White Ribbon Campaign, vicious cycle of abuse starts when an abusive person lashes out with aggressive, belittling, or violent behaviour. The abuse is a power play designed to show you "who is boss." After abusing he shows guilt because he is worried about the possibility of being caught and facing consequences for his abusive behaviour. Then abuser rationalizes what he has done, he may come up with a string of excuses or blame the woman for the abusive behaviour— anything to avoid taking responsibility. Then the abuser does everything he can to regain control and keep the victim in the relationship. He may act as if nothing has happened, or he may turn on the charm. This peaceful honeymoon phase may give the victim hope that the abuser has changed this time. Then abuser begins to fantasize about abusing the person again and look for the chance to turn the fantasy into reality. He may set you up and puts his plan in motion, creating a situation where he can justify abusing you.
Abuser's apologies and loving gestures in between the episodes of abuse can make it difficult to leave, report or get any help. He may make you believe that you are the only person who can help him, that things will be different this time, and that he truly loves you.
Abusers are very good at making excuses for the inexcusable. They will blame their abusive and violent behaviour on a bad childhood, a bad day, and even on the victims of their abuse. They commonly shift the responsibility on to the victim as Somehow, his violent and abusive behaviour is the victim's fault.
Tactics of the abuser may stop you for getting help and leave the abuser. If you are hoping your abusive partner will change, or you can help him to tackle his emotional and psychological problems you are probably wrong and abuse will keep happening. A change can only happen once your abuser takes full responsibility for his behaviour, seeks professional treatment, and stops blaming you, his unhappy childhood, stress, work, his drinking, or his temper.
Remember violence is intentional and deliberated action. Abusers pick and choose whom to abuse as they don't insult, threaten, or assault everyone in their life who gives them grief. Abusers carefully choose when and where to abuse; they control themselves until no one else is around to see their abusive behaviour.
White Ribbon has observed that abusers can stop their abusive behaviour when it benefits them. Many physically violent abusers carefully aim their kicks and punches where the bruises and marks won't show.
The first step to break free from an abusive relationship is recognizing that your situation is abusive. Once you acknowledge the reality of the abusive situation, you can get the help you need. You may be afraid of what your abusive partner will do, where you'll go, or how you'll support yourself or your children. Get help from family, relatives, friends or organisations but don't let the fear of the unknown keep you in a dangerous, unhealthy situation.