By Salma Ahmed
Karachi, Pakistan: One of the most respected scholars of Deoband School of Thought, Mufti Muhammad Naeem has strongly condemned the murder of Mashal Khan who was brutally beaten and killed for his alleged blasphemous attitude in Khan Abdul Wali Khan University Mardan on Thursday.
He called Mashal Khan a Shaheed (martyred) and said that he considered Mashal Khan a martyred because he (Mashal Khan) was killed without reason and just because of accusation.
Mufti Naeem who is authorized to announce Fatwa (Religious degree) from Deoband school of thought appeared on several television channels on Saturday evening and categorically said that People are (were) using Blasphemy Law (section 295C of Pakistan Penal Code) for their personal vendettas and harming their personal enemies.
He frankly accepted that society is (was) being radicalized and religious scholars of all school of thoughts must stand together and take a categorical stance against radicalization of society. He said that the way Mashal Khan was murdered could not be justify in any society and in any religion. He added that Islam has nothing to do with extremism and giving punishment is the prerogative State (Riasat) only and no individual can taken law into his hand and punish anybody. He said that mob justice is not acceptable in Islam as well as under laws of Pakistan.
He was of the view that the State (Riasat) and scholars of all sects should work together to provide a narrative to fight out extremism from Pakistan.
"People are using this law to take revenge from their enemies with whom they have property or family disputes", commented Mufti Naeem.
"If religious scholars and Ulema would not stand against this barbaric practice of misusing blasphemy law then one day these Ulema would also not be spared and someday, someone would implicate Ulema under blasphemy law", commented Mufti Naeem.
He said that extremism has (had) entered educational institutions including universities because there is (was) no check while hiring teachers and some teachers are also spreading extremism and sectarianism among their students.
The categorical and exceptional straight forward view point of a religious scholar like Mufti Naeem over Mashal Khan murder came on surface when political leaders were afraid of commenting over this sensitive issue.
Mufti Naeem is head of one of the most prestigious institution of Deoband school of thought—Jamia Binoria Karachi and considered as one of the highest respect scholar among Deoband school of thought.
He said that ulema (religious scholars) from all sects in the country should unanimously condemn acts of violence originating from the misuse of the blasphemy law.
He also said the ulema should issue a statement stating that killing an individual over blasphemy allegations before trying him into court is "against the Shariah as well as the law of Pakistan".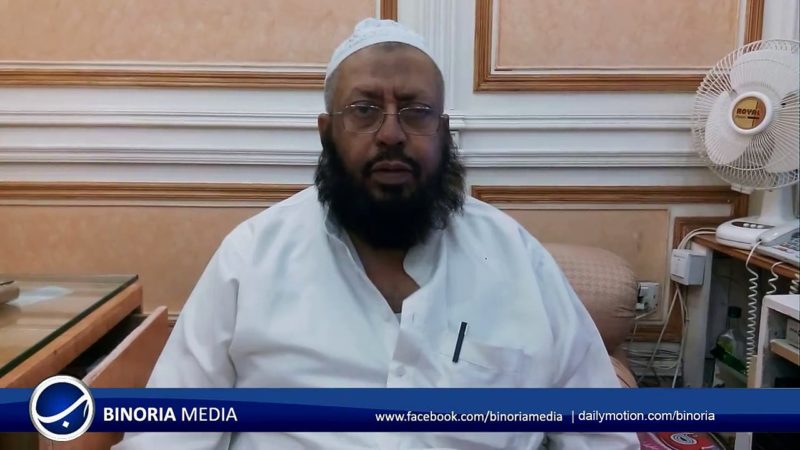 He said that religious extremism could only be eliminated from society when the judicial system in Pakistan would provide justice without delay.
"If an individual is guilty of blasphemy, punish him rather than dragging the case for years in court, and if he is innocent, then let him go free", commented Mufti Naeem.
He also criticized media for fanning sectarianism and spreading extremism in society. He said that media was making mockery of ulema and using them against each other.
"They (media) makes them (Ulema) fight like parrots", commented Mufti Naeem.
It may be mentioned that Jamia Binoria Karachi is an international Deobandi Islamic educational institute.
It may be mentioned that a report indicates that 1321 persons have been accused of blasphemy since 1987 and over 94 accused of blasphemy have been murdered before their respective trials were over. The majority of accused killed were Muslims.