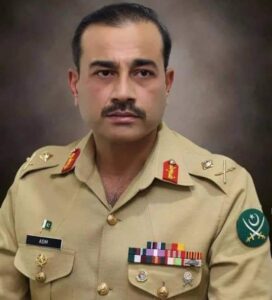 Lieutenant General Asim Munir is set to lead Pakistan Army as the 11th Chief of Army Staff (COAS) from November 30, 2022 a day after General Qamar Javed Bajwa retires as the COAS.
Lt General Asim Munir, a recipient of Sword of Honour and Hilal-i-Imtiaz (March 2018), is a three-star rank general since September 2018 and currently serving as the Quarter Master General at the General Headquarters (GHQ) in Rawalpindi.
In early, 2017, he was appointed as the Director General Military Intelligence (MI) and later he served as the 23rd Director-General of the Inter-Services Intelligence (ISI), the Country's premier spy agency, from October 25, 2018 until he was replaced with Lt General Faiz Hameed on June 16, 2019.
Munir, commanded the XXX Corps in Gujranwala from June 17, 2019 to October 6, 2021.
وزیر اعظم آفس کی جانب سے لیفٹیننٹ جنرل عاصم منیر کو آرمی چیف اور لیفٹیننٹ جنرل سآحر شمشاد کو جوائنٹ چیف نامزد کردیا گیا

— اردو نشریات ISPR (@azadpanchi01) November 24, 2022
Initially, he started his military career in 1986. He is from the 17th Course of the Officers Training School (OTS) in Mangla.
Asim Munir will be the second Chief of Army Staff of Pakistan after General Zia Ul Haq who graduated from the OTS Mangla.
Asim Munir was Commissioned in the 23rd Battalion of the Frontier Force Regiment.
During his posting in Madina as a Lieutenant Colonel, Asim Munir became Hafiz-i-Quran at the age 38.
Lt General Asim Munir is from a Syed family and his later father named Syed Sarwar Munir Shah was a teacher. He was the principal of FG Technical High School Lalkurti Rawalpindi.
In the past, Asim Munir along with family lived at Dheri Hassan Abad in Rawalpindi before they moved to another place.
Awards and Decorations Held by Lt General Asim Munir
Hilal-e-Imtiaz (Military) – 2018
Tamgha-e-Diffa (General Service Medal) – Siachen Glacier Clasp
Tamgha-e-Baqa (Nuclear Test Medal) – 1998
Tamgha-e-Istaqlal Pakistan (Escalation with India Medal) – 2002
Tamgha-e-Azm (Medal of Conviction) – 2018
Service Medals (10 Years, 20 Years, 30 Years, and 35 Years)
Jamhuriat Tamgha (Democracy Medal) – 1988
Qarardad-e-Pakistan Tamgha (Resolution Day Golden Jubilee Medal) – 1990
Tamgha-e-Salgirah Pakistan (Independence Day Golden Jubilee Medal) – 1997
Command & Staff College Quetta (Instructors Medal)