By Shazia Anwer Cheema
A surprise virtual meeting Quad's (Quadrilateral Security Dialogue) took place on March 3, 2022, and this meeting was perceived as an emergency meeting amid the Ukraine war.
Quad is primarily a strategic alliance between Japan, Australia, India, and the USA to manipulate and maneuver the Indo-Pacific region. The current Quad's surprise meeting was initiated by US President Joe Biden. Indian media announced it by adding the prefix that "the leaders will exchange views and assessments about important developments in the Indo-Pacific. Moreover, Quad leaders will also review ongoing efforts to implement the leaders' initiative announced as part of Quad's contemporary and positive agenda.
The meeting was expected to be held in Japan in a couple of months, but this meeting came out of the blue specifically called out by Joe Biden. It was casually announced on Indian media on March 3 that "today a surprise Quad virtual summit is going to be held".
Experts after the meeting said that US President Joe Biden had failed to get what he wished out of this meeting. The Sunday Guardian (TSG) reports that US's moves on Ukraine had shifted American focus back from China to Russia but at Thursday's Quad meeting, Indian Prime Minister Narendra Modi made it clear that the Quad should not be distracted from its primary duty of ensuring a free, open and inclusive Indo-Pacific.
Regional experts claim that the efforts of President Joe Biden in particular to muddy the strategic waters of India, to delight the Chinese by making the Quad condemn not China but Russia in its statement, were resisted by India.
"This caused dismay in Biden and those around him, who sought to divert the attention of the Quad from China to Russia by condemning President Vladimir Putin in the joint statement. This, while they were simultaneously wooing President Xi Jinping to get him to make Putin withdraw from Ukraine without achieving his objectives", reports TSG.
We know that the United Kingdom, Australia, and the USA have hit Russia hard with sanctions on the other hand India always relished a cozy relationship with Russia in multiple ways. India's more than half of the military equipment is Russian dependent. It is critical for India to choose a side but at the same time, it is nearly impossible to do so. India is avoiding public condemnation of Russia as the West is demanding from it. India in the midst of uncertainty decided to abstain from the UN Security Council (UNSC) meeting.
The US trust in India as an Indo-Pacific pawn has already been shaken because the US decided to distance from India while forming AKUS which is an Indo-pacific military Alliance. Quad on the other hand being less important as a tactical alliance could have been a mock test for India. How much India can facilitate US's hegemonic ventures in Indo-pacific against China and Russia was the test India need to pass out. Of course, India has failed the test and proved that neither it will go against China to the unnecessary length, nor it will take part in any hate campaign against Russia.
Anyways, the Quad meeting has been held but nothing substantiative came out of it only the fear that this sanction monopoly must work if it does not work this time, then it will never work again. If Russia and China have developed a parallel sanction-proof economy then it will be the last nail in US' coffin.
The joint statement as per my expectation has almost no mention of Russia but a categorical mention of China. Although the joint statement is diplomatic hence meaningless the smell of fear and apprehension was unignorable. The joint statement said that "Today the Quad Leader convened to reaffirm their commitment to a free and open Indo-pacific, in which the sovereignty and territorial integrity of all states is respected and countries are free from military, economic, and political coercion. They reaffirmed their dedication to the Quad as a mechanism to promote regional stability and prosperity".
To my understanding, the US is quite aware and it has also been discussed among Congressmen that pressing India will be counterproductive. India is in no position to turn it back from Russia so let's handle it patiently. Let India not condemn Russia publicly but hasten the process of tightening the leash around India's neck. The S400 missile system is again under debate and not buying weapons from Russia will be handled in cold war style.
I believe that New Delhi has already understood that Quad is becoming a responsibility for India rather than a threat instead of strength because NATO members want to use Quad as a bandwagon of their circus that they can stage anywhere in the world. AUKUS and Quad are two components of NATO to control Asia Pacific waters and every member of these two alliances will have to play their role against China if things boil up in near future. Will India take this risk?, is a big question for regional experts who believe that the US is already in chaos and does not want to push India to choose firmly but wanted to work on the preamble of its forthcoming venture might be named as "Taiwan Crisis" just like Ukraine Crisis. Quad is signaling toward China that we know what's happening with Russia and we know you (India) have given tactical support or at least did not join the global monopoly game against Russia but remember the similar must not be exercised in the case of China.
I believe that the world is moving faster than expectations towards military conflicts and sane nations would stay away from forming military alliances with the United States because defeat in Afghanistan is so painful that the US can take any new adventurism to reclaim its lost grace and power. I believe the Ukraine war can be an excellent opportunity for the United States to impose its world power again after the defeat in Afghanistan if Russia gets tired with sanctions soon because the West has already used its last arrow of sanctions but it seems aimless if China Russia and maybe Iran manage to sustain and counterplan sanctions. And if happens, then that will be the new world order.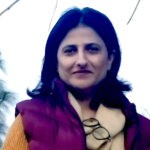 Note: Writer Shazia Anwer Cheema is a Prague-based author of books and foreign affairs expert who writes for national and international media. She is a doctoral student. Researcher in semiotics and philosophy of communication at Charles University in Prague. She heads the DND Think Tank. She can be reached at her: Twitter @ShaziaAnwerCh Email: shaziaanwer@yahoo.com
Disclaimer:
The views and opinions expressed in this article/Opinion/Comment are those of the author and do not necessarily reflect the official policy or position of the DND Thought Center and Dispatch News Desk (DND). Assumptions made within the analysis are not reflective of the position of the DND Thought Center and Dispatch News Desk News Agency.