If you're planning a trip to Switzerland in the late summer, September should come to your mind. Up to the start of the ski season in December, Switzerland is in its shoulder season. Best places to visit in Switzerland in September detail is given below: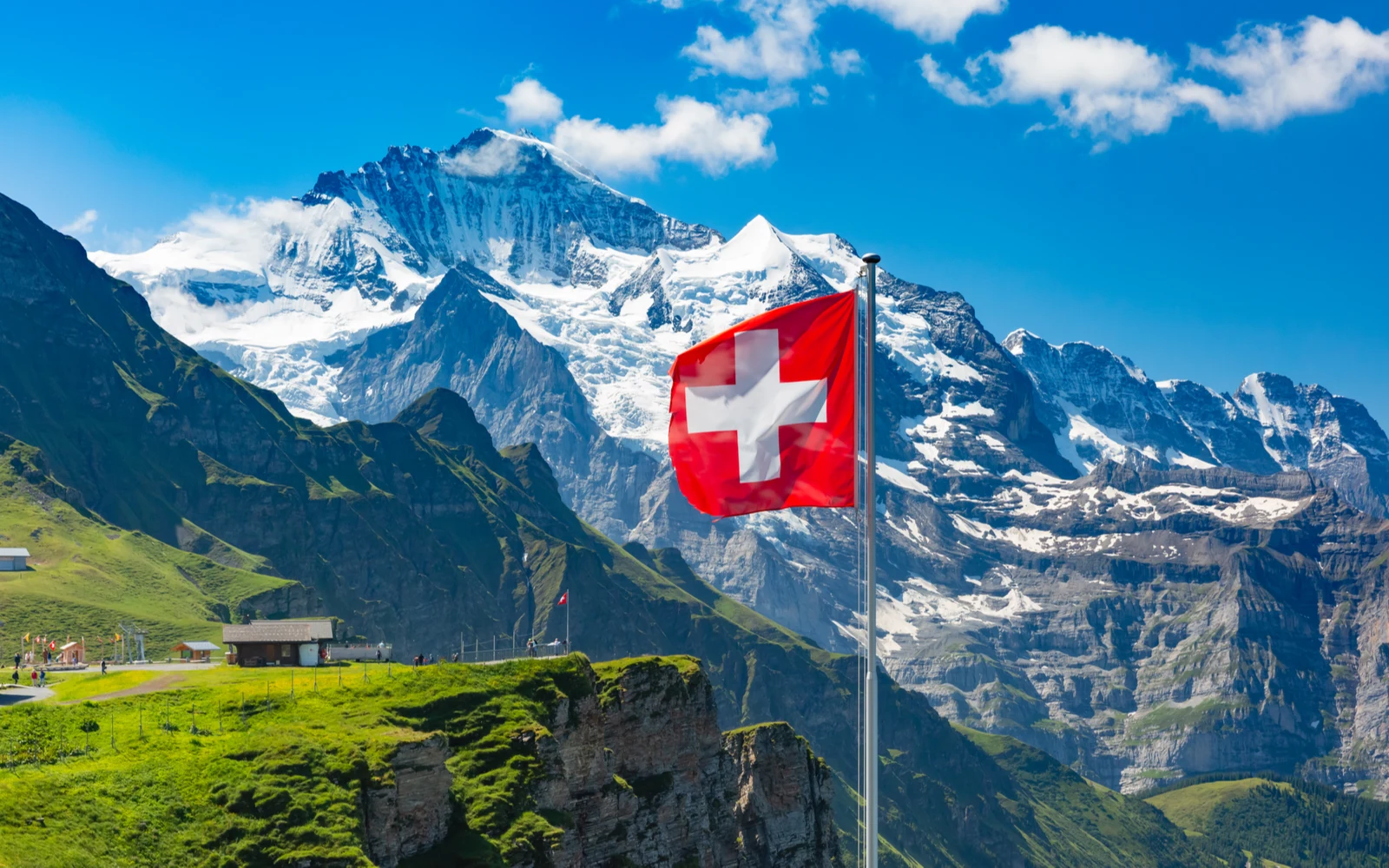 Best places to visit in Switzerland in September 
If you want to travel and stay at less expensive rates in Switzerland while still being able to participate in outdoor sports, September is a perfect month to organize your trip. Beautiful hikes, boat tours, and sightseeing are still possible even if you stay away from the majority of the Summer tourist throng.
We'll go over all of this and more to assist you in organizing Best places to visit in Switzerland in September.
SWITZERLAND WEATHER IN SEPTEMBER
The last of Summer is getting ready to transition into the start of Fall in the month of September. Even while the lower sections of the country are still experiencing warm weather, the high summits that haven't yet been covered with snow for the entire year are starting to cool down. Some go so far as to claim that September offers the ideal weather for travelling to Switzerland. So many Best places to visit in Switzerland in September.
This month is full with outdoor recreation as residents and visitors alike take advantage of the remaining few days of pleasant high-altitude hiking. Knowing the altitude and proximity of your location within the nation is crucial because the temperature will fluctuate depending on where you are going.
Expect daytime lows and highs to be in the range of 49 °F to 68 °F (10 °C to 20 °C) if you're travelling to a low-altitude area like Zurich. Average lows and highs in high altitude locations, like Zermatt, where skiing is also possible year-round, will range from 39 to 59 degrees Fahrenheit (4 to 15 degrees Celsius).
AVERAGE SEPTEMBER TEMPERATURE IN SWITZERLAND (BY CITY)
| CITY | AVG LOW (°F) | AVG HIGH (°F) | AVG LOW (°C) | AVG HIGH (°C) |
| --- | --- | --- | --- | --- |
| Zurich | 49.1 | 67.6 | 9.5 | 19.8 |
| Geneva | 50.9 | 69.1 | 10.5 | 20.6 |
| Basel | 50.7 | 69.8 | 10.4 | 21 |
| Lausanne | 50.7 | 68.9 | 10.4 | 20.5 |
| Bern | 46.2 | 67.6 | 7.9 | 19.8 |
| Lucerne | 48.9 | 67.3 | 9.4 | 19.6 |
| St. Gallen | 45 | 63.1 | 7.2 | 17.3 |
| Lugano | 55.2 | 73.6 | 12.9 | 23.1 |
| Interlaken | 46 | 66.6 | 7.8 | 19.2 |
| Montreux | 50.9 | 69.6 | 10.5 | 20.9 |
| CITY | AVG LOW (°F) | AVG HIGH (°F) | AVG LOW (°C) | AVG HIGH (°C) |
| --- | --- | --- | --- | --- |
| Zermatt | 39 | 58.8 | 3.9 | 14.9 |
| Grindelwald | 41.4 | 60.3 | 5.2 | 15.7 |
| Davos | 36.5 | 56.1 | 2.5 | 13.4 |
| Verbier | 41.7 | 60.3 | 5.4 | 15.7 |
| St. Moritz | 36.9 | 57.9 | 2.7 | 14.4 |
| Arosa | 39.9 | 59.5 | 4.4 | 15.3 |
| Engelberg | 44.1 | 61.5 | 6.7 | 16.4 |
| Wengen | 44.6 | 62.1 | 7 | 16.7 |
| Gstaad | 42.1 | 60.8 | 5.6 | 16 |
| Flims-Laax | 40.8 | 59.4 | 4.9 | 15.2 |
SWITZERLAND AFFORDABILITY & CROWDS IN SEPTEMBER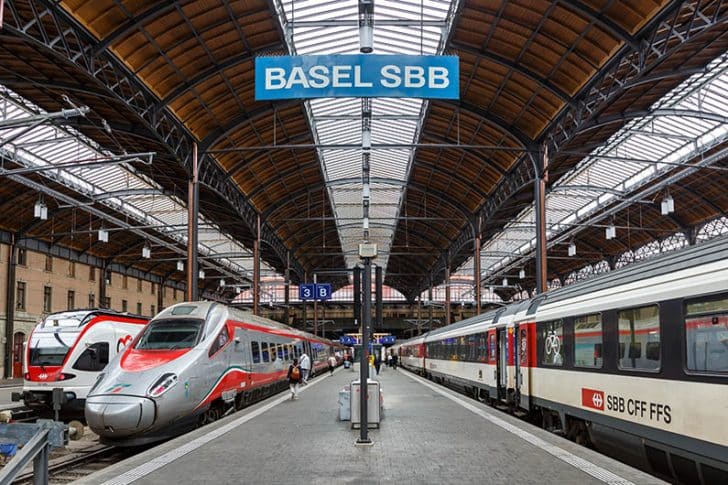 The Autumn shoulder season in Switzerland starts in September. As the school year starts and work continues, tourism slows, as it does in most places throughout the world at this time of year. For those who would rather avoid the Summer crowds, there is a break of two to three months where travel is a little bit more convenient.
Hotels, restaurants, and small businesses in Switzerland may close their doors as the country enters its slow season until the start of the new ski season in December. Although this isn't always the case, it's something to bear in mind.
The good news is that costs for transport and housing will decrease this month, making a trip to Switzerland on a budget more feasible. While a trip to Switzerland is never inexpensive (it is one of the priciest destinations), September is one of the most affordable months to travel. So plan the trip to enjoy the Best places to visit in Switzerland in September.
SWITZERLAND SNOW & SKIING IN SEPTEMBER
Snowfall is highly uncommon in the summer and most likely has ended nationwide. By September, however, there are a few, albeit sparse, flurries in the upper alpine regions. The glaciers frequently retain their snow throughout the year, whereas low-altitude areas frequently have no snow on the ground.
There are still some spots where skiing is legal in September. Choose from the limited number of ski areas that are snow-covered in September, which includes Zermatt and Saas-Fee. The slopes will be deserted due to the dramatic decrease in tourists.
BEST SWITZERLAND SKI RESORTS IN SEPTEMBER 
Excellent ski destinations open all year round to both powderhounds and recreational skiers are Zermatt and Saas-Fee. They rank among the top resort locations in the nation throughout the winter. The same will be true in September, although fewer people will be on the slopes.
ZERMATT
With gentle glacier slopes and little intermediate-style skiing on the lower portions of the trails, Zermatt is a skier's heaven. Skiing is possible year-round in Zermatt, one of the few places in the nation with a glacier, and is accessible to skiers of all abilities.
Even if you didn't want to go skiing, the little village is a wonderful destination to visit because it has Swiss chocolate box houses and structures, incredibly welcoming locals, and delicious food at their unique restaurants. A succession of gondolas will take you from the settlement to the Klein Matterhorn, where you'll have an incredible view of the famed Matterhorn peak.
Visitors have a variety of options once they reach the Klein Matterhorn, including dining at the mountain restaurant, admiring the Swiss Alps from a viewing platform, or returning to town over roughly 20 kilometers of open slopes. One of the runs, if it's available, takes you into Cervinia, Italy, where you may eat pasta and unwind for a little before returning to the city. Best places to visit in Switzerland in September have a very beautiful views.
SAAS-FEE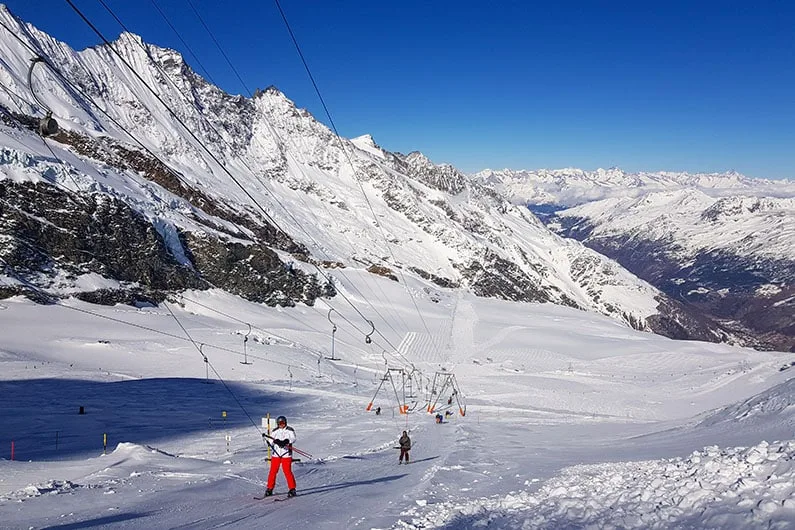 Although Saas-Fee is lower in elevation than Zermatt, it still provides more expert and intermediate skiing options than Zermatt. Since there are many ski parks with jumps and bowls and there aren't many skiers on the slopes, this is the ideal location to sharpen your abilities before the ski season begins. Additionally, Saas-Fee offers 20 km of skiable terrain in September.
The little village is a wonderful starting point for an early-season ski trip because it will be much calmer then. In contrast to the temperatures in the mountains, it will probably be warm. A visit to Saas-Fee can include skiing as well as hiking along picturesque trails, floating on the water, unwinding at the spa, and dining at one of the area's many excellent restaurants.
Best places to visit in Switzerland in September
Travelers can enjoy their final taste of Summer pleasure in Switzerland in September just before the cool gusts and early snowfall arrive. Your trip will undoubtedly be a little more relaxed than it would be during peak season because most of the larger cities will be a little quieter. Best places to visit in Switzerland in September describe below for further information and interest:
MARVEL AT BASEL 
A really charming city, Basel is found on Switzerland's northern border. The best time to visit is in September because the normally busy city is calmer at that time of year. It's ideally situated close to France and Germany, making it a fantastic starting place for travelling to nearby nations. Basel is renowned as a center of culture, and while you're there, you can visit a lot of museums and art galleries. The Vitra Design Museum, Kunst museum, and the Spalentor Mediaeval Gate are a few that come highly recommended.
It has a lovely historic quarter with Basel Minster at its heart, like the majority of Swiss cities. This magnificent Gothic masonry structure, which views out over the Rhine River, was built in the 12th century. Another wonderful experience is to explore Basel by way of the Rhine, and there are four distinct docking locations across the city where tourists can board the ferry. As an alternative, you might go out on your own by renting a paddle boat.
SHOP IN ST. MORITZ
September is a fantastic season to visit St. Moritz because of the clear nights and mild days, especially before the Winter crowds arrive. In the off-season, St. Moritz is a chic ski resort that's wonderful for unwinding. Grand hotels, upscale stores, and five-star restaurants surround the streets, making it simple to stay in the city. While visiting St. Moritz, a tonne of art galleries and museums provide a tranquil respite and educational experience.
Try dining at a mountain view cafe or rooftop restaurant like Panorama at the top of Corviglia to really appreciate the outdoors. Whether you decide to boat, paddle, or sail on Lake Silvaplana in September, you can still enjoy a day on the lake. When travelling to St. Moritz, we also advise you to take the Bernina Express, which offers breathtaking views of regions with radically diverse climates, such as glaciers, lakes, and valleys.
SIP WINE AT LAVAUX VINEYARD
Although Switzerland is not particularly known for its wine, the wine that is produced there is just as excellent as that from its neighboring countries, France and Italy. Swiss wine isn't as well known as other varieties, therefore local producers save their stock exclusively for residents and guests, adding to the exclusivity of this unique experience. La Cote, Neuchatel, and Praz are a few important locations to visit for hand-harvested and freshly pressed wine.
The Lavaux Vineyards on Lake Geneva, which is truly a UNESCO World Heritage site, are the most prominent of them. Their vineyard is renowned for its extreme inclination, which prevents mechanized harvesting. The grapes are hand-picked each year, and individuals who intend to stay in the city for a long time might phone in advance to inquire about employment.
VISIT LAUSANNE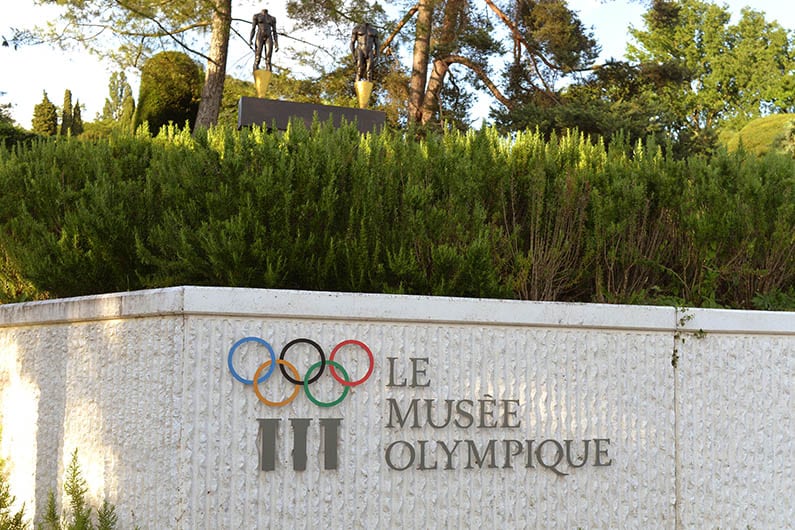 In comparison to other larger cities on the lake, Lausanne is somewhat of a hidden gem. It is located on Lake Geneva. The Olympic Committee's headquarters and the Olympic Museum, which visitors can't miss when they're here, are this small town's only prominent international connections.
Since it still seems like summer in Lausanne in September, many outdoor activities, including boat tours, are excellent ways to see the city. In addition to the cruise, explore Lausanne's iconic Cathedrale de Lausanne, the city's old-town apex, or get a bird's-eye perspective from the Sauvabelin Tower.
EXPLORE LUCERNE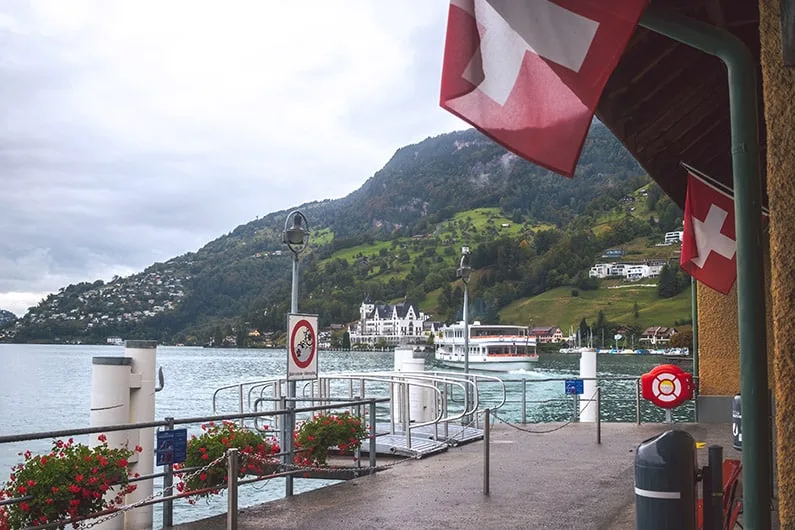 September is a perfect month to avoid the crowds while still taking advantage of the remaining mild weather because Lucerne is pretty busy over the Summer. The walls from the 14th century that still survive on the northern end of this lakefront city's city center and a chapel bridge constructed in 1333 are only two examples of the city's rich mediaeval architecture. The top attraction of Lucerne is its boat trips, which are in addition to its long history.
Your first priority for Lucerne should be exploring the local natural environment. You can take a cruise to explore the Alstadt's lovely cobblestone alleys and red brick homes, ride the cogwheel train to hike Mount Pilatus or Mount Rigi, or stroll along the ancient paths on the covered bridges and rampart towers. While the weather is warm, you ought to utilize the special bathing area on Lake Lucerne.
PLAY AT MOUNT PILATUS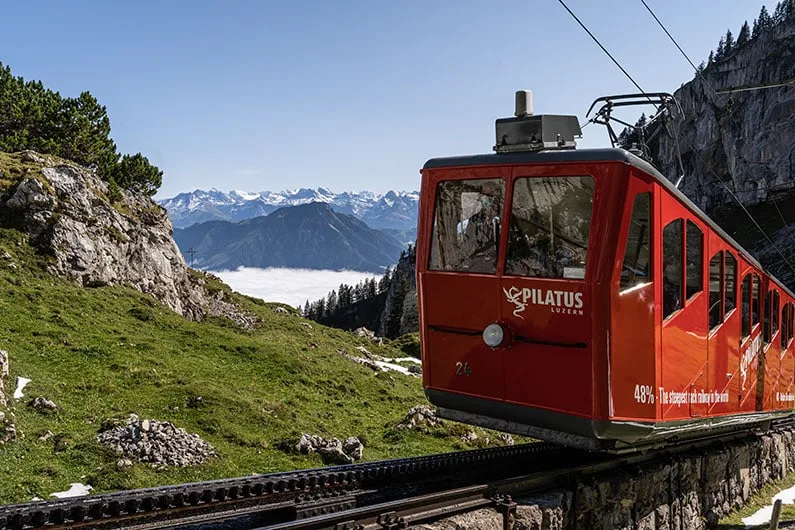 Incredible views of the lake and the mountains can be seen from the top of Mount Pilatus, which is perched atop Lake Lucerne. It's a vacation spot that the whole family will appreciate, and it includes a short hike or sightseeing excursion. You won't have to struggle to climb the mountain when September comes around because the tourist throng really thin down.
We advise taking the Golden Round Trip, which offers the best views of Mount Pilatus, to get you here from Lucerne. To begin, take a bus across the countryside to Kriens. From there, take a cable car to Pilatus and enjoy the breathtaking views from the Pilatus-Kulm platform. You'll travel back from Pilatus to Alpnachstad on the cogwheel train and then finish your adventure in Lucerne by water. One of the greatest ways to experience all that Lake Lucerne has to offer is on this all-day excursion.
VIA FERRATA IN MURREN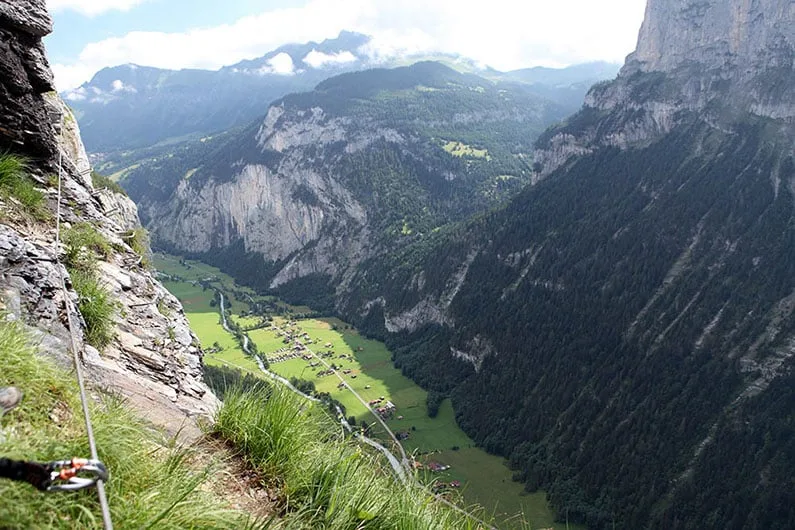 The best via ferrata climb can still be had in September, and Murren is the spot to do it. Climbing via ferrata is a difficult task, and the Murren course takes it very seriously. The expansive vistas of the valley and mountains that they get when ascending 2000 feet make hikers adore it. The course is accessible to everyone, however for your safety, we advise taking a guided tour.
The route begins in the little village of Murren in the Jungfrau region and features tight ropes, suspension bridges, and steep ladders. Climbers must navigate 2.2 km of treacherous, rocky terrain from Murren's valley bottom to Gimmelwald on the opposite side of the mountain.
VISIT GRINDELWALD 
Although skiing is very popular in Grindelwald during the winter, the shoulder season of September is actually a well-balanced warm weather sanctuary for adventurers. In the summer, Lauterbrunnen 72 Waterfalls Valley and the renowned Jungfraujoch may both be reached via this well-known ski resort. Although these are magnificent sights in and of themselves, there is even more to see and do nearby.
The path that leads through the ravine known as Gletscherschult is spectacular and dates back to the Little Ice Age. Another stunning sight that truly puts tourists on edge is First Cliff Walk. You must travel a 45-meter metal catwalk to reach the centre, where the views are breathtaking. You can also access the Grosse Scheidegg Alpine Trail or the Bachalpsee Alpine Lake from here.
SEE JUNGFRAUJOCH 
The "Top of Europe" is Jungfraujoch, which features one of the tallest peaks in the globe. Additionally, it boasts the continent's tallest railway station. Every year, hundreds of thousands of people visit the site, but the most of them come in the summer, so September will be less crowded. In addition to colder temperatures, this month will also deliver this breath-taking scenery of the Bernese Alps and Glacier Valley (seen above).
The Jungfrau Railway offers stunning panoramic vistas of the mountain peaks as it travels up the mountain. On your voyage, you'll also be treated to a delectable dinner. There are several activities waiting for you when you reach the summit. The main draw is the Sphinx Terrace viewing point, but there are also glacier tours, the Ice Palace and sculptures, and the most cutting-edge tricable gondola in the world.
TOUR THE RHONE GLACIER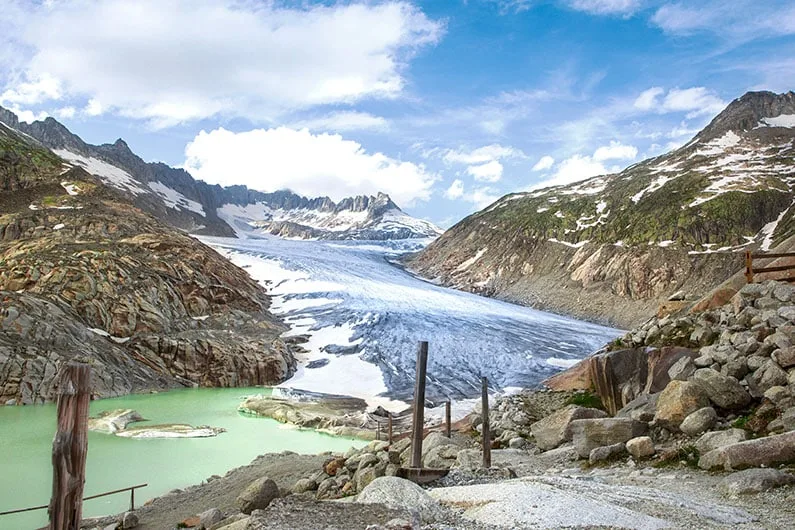 Both the Rhone River and Lake Geneva receive water from the spectacular Rhone Glacier. This striking landmark is year-round and perched high above the well-known ski resort of Andermatt. It's most impressive in the summer, when snow and ice are the last things you expect to see, and it offers a welcome respite from the hot temperatures.
Don't skip walking inside the Ice Grotto, which is redrilled for visitors each year. The mountain's greyish tones stand in stark contrast to the vivid blue hues of the ice. In addition, a platform outside offers views of the lake below and the glacier's exterior.
HIKE THE SWISS GRAND CANYON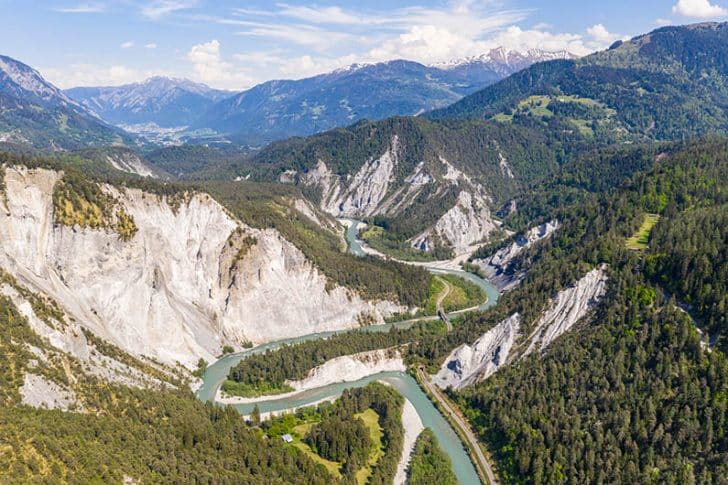 The Rhine Gorge, also referred to as the "Swiss Grand Canyon," is one of Switzerland's most breathtaking and understated views. Those who come to Switzerland particularly to walk the Alps shouldn't pass up this special opportunity. The difficulty of the hiking paths and vistas in the Rhine Gorge range. For young children, the family hiking trails are excellent.
Hikers will enjoy the peace and milder weather in May because that is when Rhine Gorge will see the most visitors later in the summer. After a strenuous hike, you can even cool off by swimming in the Caumasee mountain lake if the weather is warm enough.
BACKPACK MONT BLANC
Since harsher and potentially snowy weather could arrive towards the end of October, September is the final month that is favorable for backpacking across the Mont Blanc trail. The cold weather arrives earlier in Mont Blanc than it does in other parts of Switzerland since it is the highest mountain in Western Europe. Actually, the entire Tour du Mont Blanc trail starts in France and leads hikers via Italy and Switzerland. If you start in Switzerland, you can simply take the train from Geneva to Martigny and begin in Champex-Lac or La Fouly.
Backpackers can reach rest areas every few kilometers along the Tour du Mont Blanc that are packed with supplies and refreshments. You can make several stops in each nation if you take the entire route. Alpine cheese, mouthwatering pasta, and strong wines are all available in Switzerland, Italy, and France.
TOUR OBERHOFEN CASTLE 
Switzerland's Bern canton is home to the stunning Oberhofen Castle, a remnant from the 13th century. It is regarded as a romantic vacation and is located on Lake Thun. Couples will enjoy dining on traditional Swiss fare at the castle restaurant, strolling through the newly refurbished castle halls, and sharing a passionate kiss in the romantic top tower smoking area.
Lake breezes and mild sunny days are expected in September. Take a boat trip down the Aare River to the nearby city of Thun if you intend to spend the day in Oberhofen. There are numerous beautiful walks in Thun that take you through the old town, across the old covered bridges, and across to Balliz Island, where you can shop at the market and eat at a number of neighborhood cafes.
BOAT LAKE THUN & LAKE BRIENZ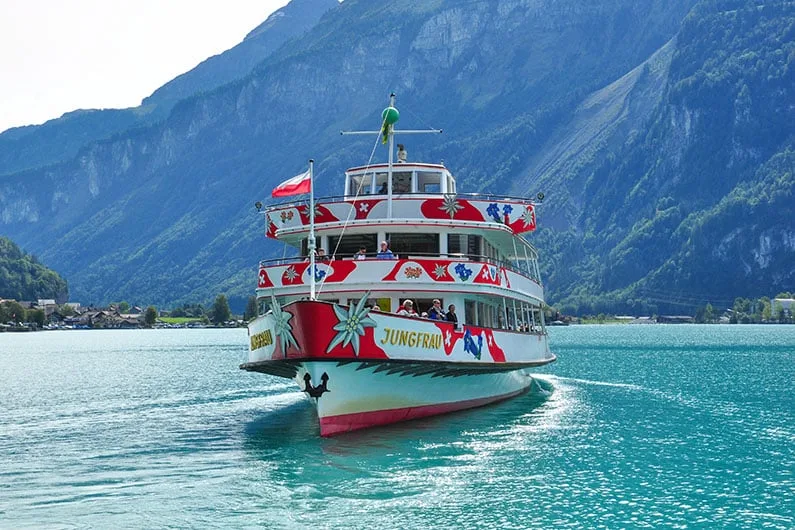 Speaking of Thun, it is situated on the stunning Lake Thun, which is ideal for boating this time of year but too chilly for swimming in September. The mild breezes that frequently blow across this alpine lake, which was created when a glacier melted, are beloved by sailors.
A nearby stream with stunningly blue water, Lake Brienz, feeds into Lake Thun. The paddle steamer offers regular tours throughout the month, and visitors can select the time of their journey based on their preferred cuisine. When you choose to take a boat ride on one of these lakes, you'll be treated to a tasty supper and soothing entertainment while viewing charming villages against a backdrop of enormous mountains.
SEPTEMBER EVENTS IN SWITZERLAND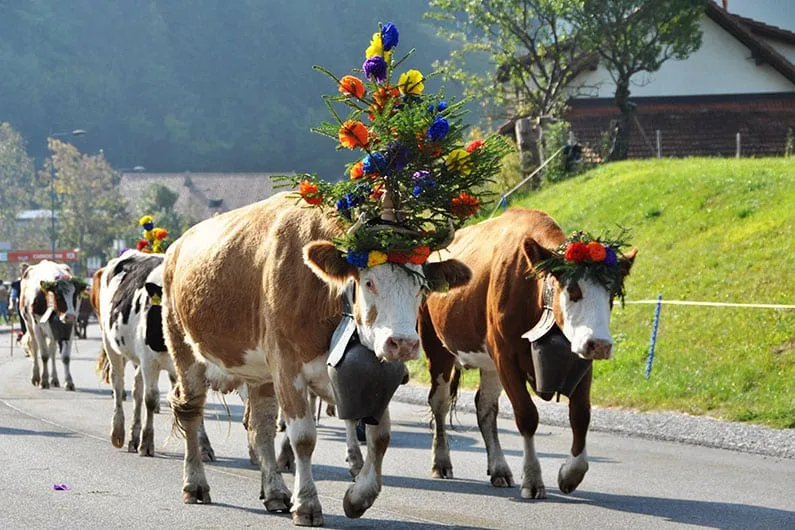 FEDERAL DAY OF THANKSGIVING, REPENTANCE AND PRAYER
People of all faiths, including but not limited to Christians, Catholics, Muslims, and Jews, observe this special government holiday on the third Sunday in September. Although the emphasis is on mindfulness and fasting, the holiday is also celebrated because it is viewed as patriotic, and the entire nation typically stops working on this day.
ALPINE CATTLE DESCENT
Switzerland is well known for its cheese and dairy products, which are all lovingly produced by its attentive and well-cared-for cows. In order to provide these cows with fresh, delicious grass in a cooler climate for the summer, they receive special treatment every spring by travelling up into the mountains. They descend across the nation in the autumn, and nearby villages celebrate their arrival. Farmers welcome the herds with a festive procession as they return to town.
GRAPE HARVEST FESTIVAL
An annual event, the Grape Harvest Festival, takes place in Neuchatel Country around the end of September. All of the locals participate in the occasion by organising a harvest procession and dressing in traditional attire. As the countryside gets ready to crush the season's grapes, elaborate floats decked with floral bouquets and wine harvesting tools parade through the towns. Similar occasions sometimes occur in wine regions, such as in the village of Praz.