KARACHI, Pakistan: Bank Alfalah Limited (BAFL) and Engro Polymer & Chemicals Limited (EPCL) have signed a Memorandum of Understanding (MoU) to design and implement customized Supply Chain Finance solution, exclusively for EPCL's buyers.
This unique initiative is a part of Bank Alfalah's continued commitment towards financial inclusion and introducing global Supply Chain Finance (SCF) best practices in Pakistan by leveraging IFC's international and local knowledge. The program introduces strategic value for corporate partners in strengthening supply chain networks, to EPCL buyers for meeting their working capital needs and enhancing their bottom lines besides generating consistent product ordering for EPCL.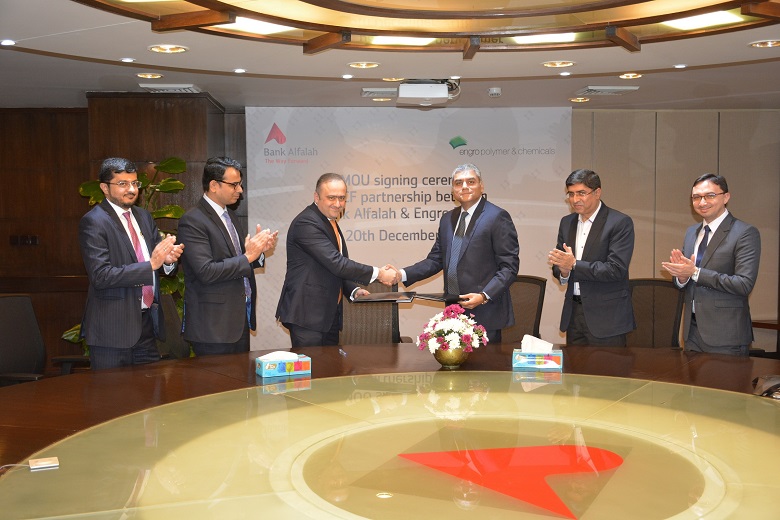 The SME segment holds critical position in Pakistan's economic landscape through contributing over 30% of GDP and employing 90% of non-agricultural workforce. Bank Alfalah strongly believes in developing structured initiatives such as SCF programs to support SME businesses and is uniquely positioned through its wide spread branch footprint across the country.
Mr. Bilal Asghar – Group Head Corporate, Investment Banking & International Business from Bank Alfalah Limited and Mr. Syed Abbas Raza – CFO from Engro Polymer & Chemicals Limited signed this strategic partnership during a ceremony held in Karachi. Mr. Shehzad Ilyas – Head, Transaction Banking, Mr. Farrukh Aslam Chughtai – Regional Corporate Head South, Mr. Abdul Qayoom Shaikh – Head of Marketing, Mr. Muhammad Bilal Ahmed – Head of Treasury and Mr. Akber Zaman Khan, IFC were also present at the event.