By Fikret Dolukhanov (Baku)
BAKU, Azerbaijan: Azerbaijan, together with South Korea's Samsung Electronics, is developing a special platform for the AzDoc program, which will provide for digitalization of documents circulation at enterprises and organizations.
The development of the digital platform is carried out within the framework of the cooperation of the Information and Computing Center (ICC) of the Ministry of Transport, Communications and High Technologies of Azerbaijan with Samsung Electronics.
The press service of the ministry noted that the corresponding memorandum has been signed between Director of the ITC Elnar Asadov and head of the representative office of the South Korean company in Azerbaijan Jae-Hoon Lee.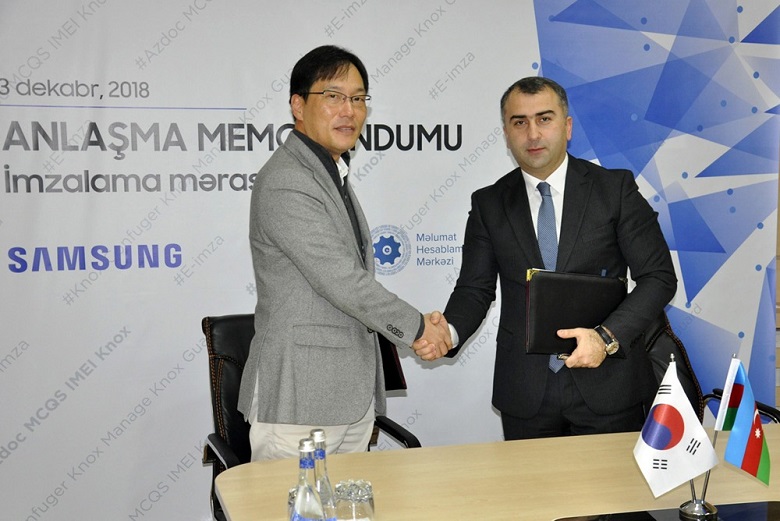 According to the document, the parties will jointly develop innovative solutions and software.
In addition to the development of AzDoc, the memorandum provides for the joint development and implementation of software for Samsung mobile devices, which will be used for the digital document management system.
The parties are also planning to implement a number of software solutions using Samsung's security platform Knox, in particular, mobile e-signature solutions for Korean-made mobile devices, as well as providing remote control over the settings of those devices and mobile applications on them.
Knox is a mobile security system developed by Samsung and pre-installed on most smartphones, tablets and carriers from the South Korean manufacturer. Samsung Knox allows personal and corporate data to coexist on the same phone. A special "switch" takes the phone from the personal mode to the work mode without delay or reboot.
In October 2014, the US National Security Agency (NSA) approved the Samsung Galaxy family of devices as part of a program to rapidly deploy commercially available technologies. The list of approved products included the Galaxy S4, Galaxy S5, Galaxy S6, Galaxy S7, Galaxy Note 3 and Galaxy Note 10.1 2014.
Thus, ICC and Samsung intend to implement the e-signature system through the Knox platform, which will allow users of relevant devices to read and sign documents from anywhere, thanks to the maximum optimization of the recognition process and transfer of signed documents to authentication systems.
It should be understood that Azerbaijan's choice falling on Samsung is not accidental. Firstly, the company is the largest mobile device manufacturer in the world market with its own security platform. In December 2017, Knox received strong ratings in 25 of 28 categories in Gartner's December 2017 Mobile OSs and Device Security: A Comparison of Platforms. Secondly, the Global Stats statistical center reported on December 15 that Samsung devices are leading in Azerbaijan's mobile devices market with a share of 56.4 percent as of December 1, 2018
Therefore, cooperation with Samsung will allow the Azerbaijani side to ensure maximum user reach and engage in the development of innovative software, in particular, solutions for remote control and the Internet of Things concept.