By Fikret Dolukhanov (Baku)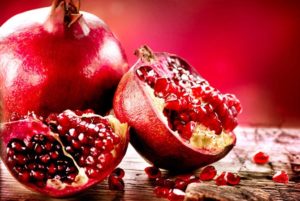 Azerbaijani specialists are studying the feasibility of growing "seedless" pomegranate varieties, the Head of the Azerbaijani Association of Pomegranate Manufacturers and Exporters Farhad Garashov said.
He, however, underlined that the so-called "seedless" pomegranates are not completely without seeds, but rather with reduced and softened ones.
"It is rumored that "seedless" pomegranate grows in Azerbaijan as well. I would like to note that the existence of a completely seedless pomegranate is impossible in principle. Varieties of pomegranate with very small and soft bones, however, do exist. Pomegranate aril is extremely juicy and should have some relatively hard kernel," Garashov said.
He added that such pomegranate varieties are also being grown in Azerbaijan, albeit in very small quantities. According to Garashov, various chemicals and genetic engineering are used to cultivate such pomegranates, which is generally undesirable. Therefore, experts of the Association are currently studying the feasibility of their cultivation and growing.
In early November 2018, for the first time in the world, the genome of the Azeri pomegranate variety "Guleisha" was read and the genome data were registered by the US National Center for Biotechnology Information (NCBI).
Touching upon the pomegranate production volume in Azerbaijan in 2018, Garashov noted that it's too early to talk about the final results, because figures are increasing day by day, and the results will be known only by February 2019.
Nevertheless, according to the preliminary data, the pomegranate production in the country has been increasing significantly.
"Processing plants report an increase in the supply of pomegranate and in the manufacturing of pomegranate products. The growth is expected to reach 20-25 percent by the year-end. For instance, in 2017, 165,000 tons of pomegranates were produced. Export income amounted to $10 million," Garashov said.
He added that exports are currently carried out mainly to the CIS countries (primarily to Russia), Europe, and also, in small volumes, to the US and Australia.
Soon, Azerbaijan may expand the geography of exports to the EU thanks to possible future supplies to Germany, France, Latvia and Poland. Currently, negotiations in this direction are underway and the sides are nearing conclusion of relevant agreements.
Interestingly, Azerbaijan is the only country in the world where all varieties of pomegranate are grown. The city of Goychay, which is the center of pomegranate cultivation in Azerbaijan, hosts the so-called Pomegranate Festival every year during the pomegranate harvest period. At one of the previous holidays, a 1.5-kilogram pomegranate was shown, which is considered to be the largest ever.