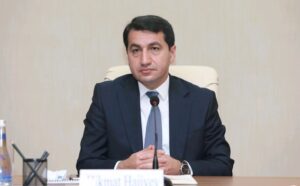 BAKU, Azerbaijan: As the fierce fighting between the Azerbaijani and Armenian forces in the Nagorno-Karabakh region continues, Azerbaijan's top official claims to have decimated the opponent saying that they are now helpless on the battlefield, AZERTAC reported.
"We are all mobilized today. We all have the same the goal, which is to liberate our lands that are under occupation. Armenians are hopeless and desperate on the battlefield," Assistant to the Azerbaijani President, Head of Foreign Policy Affairs Department of the Presidential Administration Hikmat Hajiyev told media in Baku.
"We assess the situation as a military and political provocation. Armenians are trying to involve third parties into the conflict. The Azerbaijani side is well aware of this, and has informed international organizations and countries about this," Hikmat Hajiyev added.
Earlier on Monday, Hikmat Hajiyev strongly condemned Armenia's recent attacks against Azerbaijan and said that Armenia's attacks against Azerbaijan indicate the terror policy that it is pursuing at the state level.
"These commands are given directly by the Armenian political and military leadership. According to international law, those in Armenia's political leadership and the leadership of the puppet regime are responsible in this situation," the Azerbaijan president's assistant said.