Islamabad, Pakistan: "The global convergence on Afghanistan is the need of the day for avoiding looming humanitarian crisis and coordinated efforts for the economic uplift of the Afghan people are needed immediately".
This was observed by participants of PTV Talk Show "The Capital View" here on Friday and participants further observed that the United Nations and its specialized agencies must kickoff develop programs in Afghanistan to implement the international community's commitments to support the people of Afghanistan.
The show was anchored by Shahzad Raza while experts including Ahmed Pansota, Hamayun Khan, and Prof Shazia Anwer Cheema expressed their views.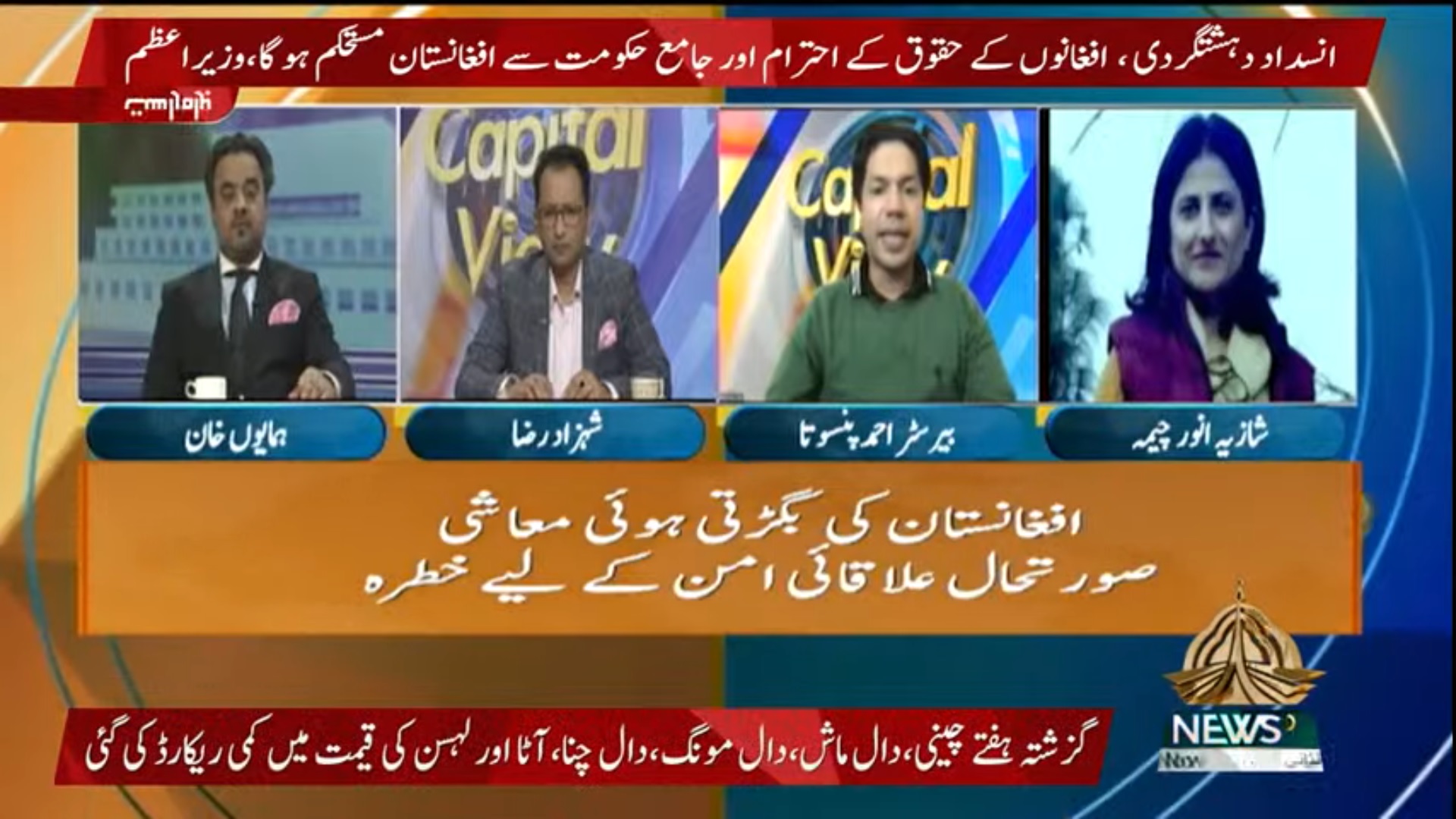 They were of the view that the issue of recognition of the Taliban government is very important to point to execute humanitarian support activities in Afghanistan. They stated that the point of all-inclusive government discussed in US-Taliban Doha talks was clear that Taliban would include other ethnic groups in the government that they have already done and what kind of all-inclusive government now the United States and its allies need in Kabul?  They also questioned that how the could Taliban include those who ruined Afghanistan for 20 long years under the US-sponsored government?
Participants of the show expressed deep concern regarding the severe humanitarian and economic situation in Afghanistan and reiterated unwavering support for the people of Afghanistan.
They indicated that over 80 percent of the Afghan population that lives in rural areas is facing a severe energy crisis to keep their muddy homes warmer, resulting in the death of infants there.
People do not have money to buy energy resources because cash in the Afghan economy has disappeared following the Taliban takeover of Kabul because major donors have stopped funding the Afghan government and we must remember that donors used to cater for roughly 70% of Afghanistan's budget.
The sudden withdrawal of foreign assistance has created a huge gap, halting businesses, and construction work.
They stated that the Afghan economy has already contracted by 30%.
They stated that the good intentions expressed by the world bodies must be translated into practical actions to help the Afghans in dire need before more infant deaths are reported from rural areas.
In such a humanitarian crisis that Afghanistan is facing, collective efforts can halt economic meltdown and neighboring countries must come forward to support the Afghan population.
They stated that the shared objective of a peaceful, united, and prosperous Afghanistan will only materialize when the world would join hands and assist Afghanistan. And neighbors should do mutual coordination on the facilitation of humanitarian assistance to reach a maximum number of Afghans; ensure more meaningful economic activity, individually and collectively, to aid the development process and help build a sustainable Afghan economy.
They expressed concerns that any humanitarian crises in Afghanistan would have a great fallout in Pakistan and Pakistan had been indicating this point at every available forum of the world.