Islamabad, Pakistan: Second-day rescue operation helicopters of Pakistan Army ended with no sign of finding missing climbers Ali Sadpara, Snorri (Iceland) and Mohr (Chile) who have gone missing attempting to summit K2 (28250 f).
All contacts were lost with Muhammad Ali Sadpara, a skilled mountaineer who became the first Pakistani to summit K2 (8,611 metres) in winter, reports DND News Agency.
His son Sajid Sadpara came back with two porters before reaching K-2 Summit but Ali Sadpara, John Snorri and Juan Pablo Mohr reached Summit and placed flags of their countries.
"Ali Sadpara from Pakistan, John Snorri from Iceland and Juan Pablo from Chile are still missing on the K-2 mountain expedition," confirmed officials of Skardu.
The rescue and search team of the Pakistan Army using helicopters started on Saturday making at K2 in extremely challenging weather as high as 7000 meters but unfortunately so far have not spotted anyone.
Pakistan Army helicopters had been circling all around as there had not been any contact with Ali Sadpara and his team members from the past 72 hours. According to information, available helicopters have not detected any movement yet.
Muhamad Ali Sadpara, born in 1976 is a Pakistani mountaineer and he was a member of the team which successfully achieved the first-ever winter summit on naked and killer mountain Nanga Parbat in 2016.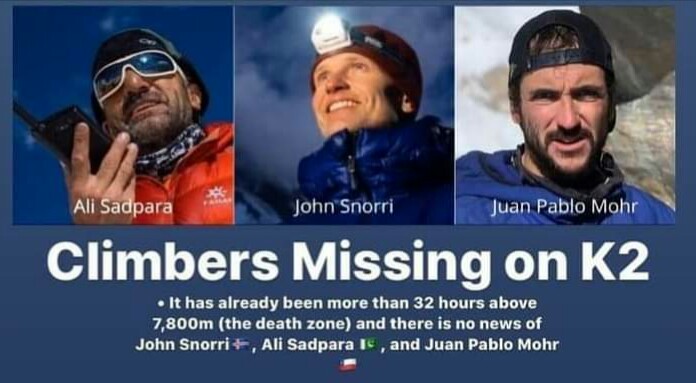 He has successfully climbed four eight-thousanders summits in a calendar year and a total of eight in his career.
Ali Sadpara and John Snorri reached the summit of K-2 on Feb 5, 2021, and shared photos of their success having flags of their countries in their hands. Since then, he lost contact with base-camp.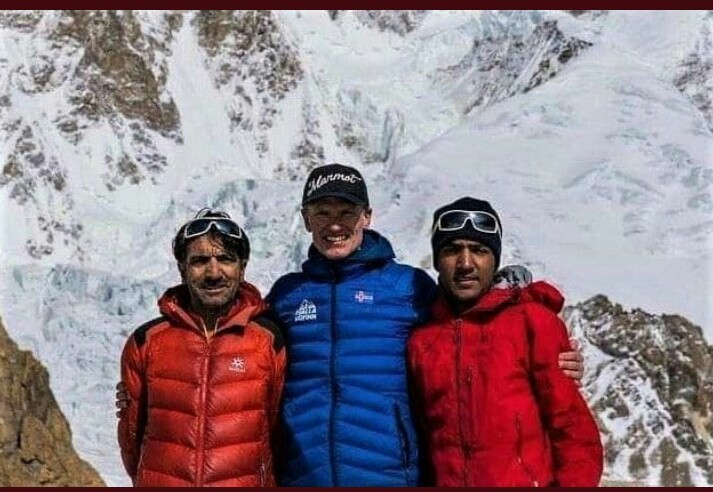 The scaling K-2 in winter started on January 24, 2021 and several attempts were made till February 3, 2021 but bad weather compelled the team to go back to Camp-4. They again attempted and reached the summit on February 5 morning.