Shakai, Barmal & Toi Khulla will soon have NADRA Centers, Wazir assured
By Hamid Khan Wazir
ISLAMABAD, Pakistan: The inhabitants of the long-neglected South Waziristan, a tribal district of Khyber Pakhtunkhwa province, have been facing untold problems due to lack of the much-needed facilities and staff in National Database and Registration Authority (NADRA) in District Headquarter Wana.
However, owing to incessant and tireless efforts by the former Advisor to Chief Minister Khyber Pakhtunkhwa on Information and Public Relations Ajmal Khan Wazir, the myriad issues being faced by the dwellers of the tribal district would likely be addressed soon.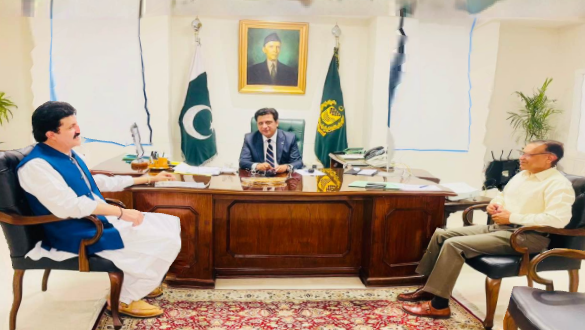 In this regard, Ajmal Khan Wazir, a Pakistan Tehreek-e-Insaf (PTI) senior leader, held an important meeting with the Chairman NADRA Tariq Malik in Islamabad and apprised him about the hardships facing the dwellers of South Waziristan due to lack of facilities and staff in NADRA Office in detail.
During the meeting, Ajmal Wazir asked the Chairman NADRA to address the issue of shortage of staff and facilities in Wana Center.
The PTI leader also demanded that NADRA Centers should be set up in Tehsil Shakai, Barmal, and Toi Khulla Tehsil to ease the public woes.
Tariq Malik assured Ajmal Wazir that NADRA Centers would soon be established in Shakai, Barmal, and Toi Khulla to meet the public needs.