Islamabad, Pakistan: The inaugural meeting of Advisory Board of National Security Division (NSD) was held here on Thursday that was chaired by National Security Adviser of Pakistan Lt.General ® Nasser Khan Janjua
Besides Iftekhar Hussain Babar, Secretary National Security Division, the meeting was attended by Ambassador Riaz Mohammed Khan, Ambassador  Muhammad Sadiq, former Secretary NSD, Ambassador Mr. Khalid Mehmood, Director General Institute of Strategic Studies,  Major General Muhammad Shamrez Salik, Director General ISSRA,NDU and by Arish Ullah Khan, Senior member Institute of Regional Studies.
The board collectively decided to work on security challenges faced by Pakistan combined with the opportunities offered there in. The board will meet and remain committed regularly for providing their input for the consumption of National Security Committee.
It may be mentioned the National Security Division was established in January 2014. Its mandate includes provision of secretariat services to the National Security Committee (NSC), drafting of National Security Policy (NSP) and engagement with international partners in a dialogue on issues relevant to national security of Pakistan.
The Division is headed by Adviser to the PM on National Security, Lt. Gen. (Ret.) Nasser Khan Janjua, HI(M), who functions as Minister In-charge of the Division on behalf of the Prime Minister. Presently, the Division comprises a small number of officers including Secretary, Additional Secretary and a Joint Secretary.
The National Security Committee (NSC) is the principal decision making body on national security matters. The NSC is supported by two principal sub-committees – a Planning committee and a Research Committee/Advisory Board. The former identifies issues and topics for research by the latter.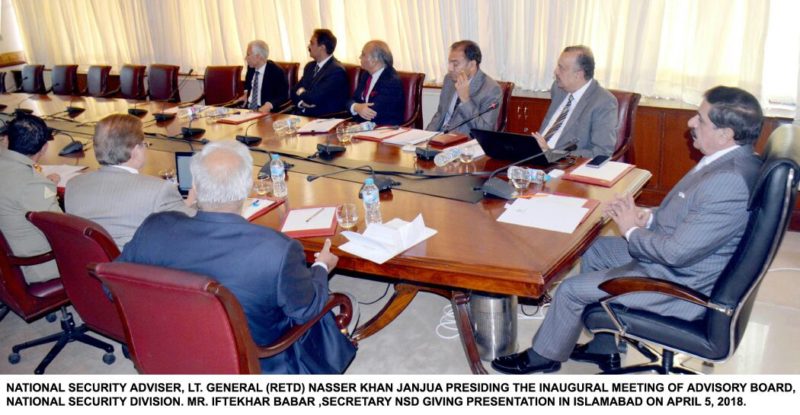 Meanwhile, a delegation from Tajikistan headed by Hakim Abdulohi Rahnamo, along with Tajik Ambassador to Pakistan H.E. Sherali Jononov met National Security Adviser Lt.General R Nasser Khan Janjua. Besides discussing bilateral relations, matters pertaining to regional security and prospects of connectivity were discussed.
NSA welcomed the guests and thanked them for coming over to Pakistan.
Subsequently, NSA gave them a detailed presentation, highlighting the common challenges and opportunities for Pakistan and CARS. In a logical discourse, NSA explained to them that the emergence of CARs after the war in Afghanistan is a unique blessing. Our co-location is a gift and part of divine management. Referring to CARs, Pakistan, Afghanistan, Iran and Turkey, he said" we are blessed region with great people of same faith. We have a shared past and common future. Together we will be a region of progression and prosperity as we will multiply each others economic prosperity"
The delegation shared the vision and discussed ways and means to overcome the challenges and convert them into opportunities. Both sides indentified areas of cooperation to develop the relationship further.