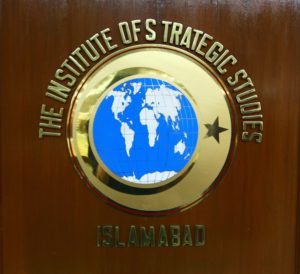 Established in 1973, the Institute of Strategic Studies Islamabad (ISSI) is an autonomous, non-profit research and analyses organization affiliated with the Ministry of Foreign Affairs.
The purpose of the Institute is to foster dialogue, understanding and collaboration amongst scholars, policy-makers and other stakeholders.
During the last three years i.e., 2020-23, the ISSI registered a quantitative surge and qualitative improvement in all three streams of its work research, discourse and policy inputs to the government.
In terms of policy discourse, the Institute organized 581 events during 2020-2023, which includes 5 Conferences, 21 Seminars, 24 Public Talks, 82 Webinars/Web Talks/Web Celebrations, 34 Roundtables, 60 Online Panel Discussions, 100 In-House Meetings; 29 Book Launch/Report Lunch, 6 Tuesday Dialogue, 4 Think Tanks Meetings" 12 Bilateral Dialogue, 5 Centre Inaugurations, 13 Advisory Board/ Review meeting, 24 MoU, 3 Monday Retreats, 32 Visits, 4 Workshops, 3 Thought Leaders Forum, 6 Grand National Dialogue, 3 Islamabad Security Dialogue, and 65 informal discussions.
From 2020 to date, the ISSI has published 11 journals including 60 articles. Besides Strategic Studies, the Institute has published over 407 issue Briefs, periodically published 14 additions of Pivot Magazine, 7 Books, 5 Islamabad papers and 8 Special Report. All of which are available at ISSI's website at www.issi.org.pk.
During the period under review, the ISSI signed 25 Memorandums of Understanding (MoUs) with over 40 institutes and think tanks in 25 countries. Under these MoUs, the Institute held bilateral dialogues, hosted scholars from partner institutes and organized joint seminars and conferences with them. These arrangements facilitated research visits of the Institute's research faculty to foreign institutions.
The ISSI provides inputs to the Ministry of Foreign Affairs (MoFA) and other government departments through formal and informal ways consisting of policy/issue briefs, takeaways of conferences/ Dialogues and also when sought by the MoFA on specific issues.
The Institute also shares its inputs with Parliamentary Committees when sought by these including those relating to foreign affairs. 
Note: The above information was shared by the Caretaker Foreign Minister Jalil Abbas Jilani with the Senate on November 21, 2023.