ISLAMABAD, Pakistan: Pakistan and China are celebrating 70 years of diplomatic relations this year. Dr. Talat Shabbir, the foremost researcher and thought leader on international relations, specializes on the Pakistan-China relationship with a special focus on the Belt Road Initiative (BRI) of the People's Republic of China.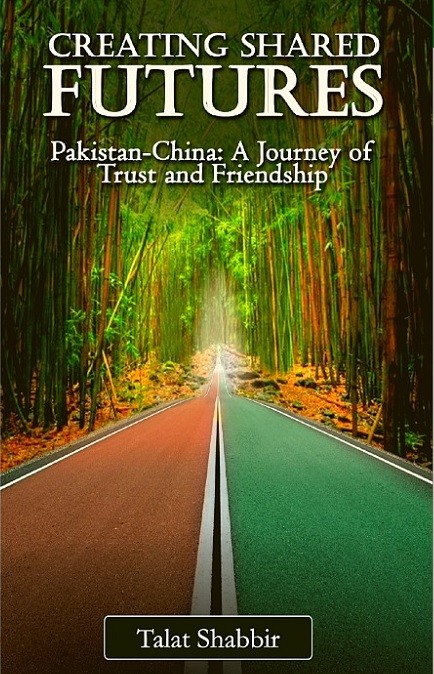 Dr. Talat Shabbir, a renowned writer and intellectual, has deliberated in detail on the 70-year journey of Pakistan-China Relations. The Book has been published by the Policy Press in Pakistan. The book has a foreword written by H.E. Shah Mahmood Qureshi, Foreign Minister of Pakistan.
Shah Mahmood Qureshi in his foreword has praised the work of Dr. Talat Shabbir and said that the book which a comprehensive exposition of the multifaceted partnership between the two countries has given a very detailed account of the evolution of this exemplary partnership brings in all the dimensions of this relationship, strategic, diplomatic, political, economic and social.
Titled "Creating Shared Futures: Pakistan-China – A Journey of Trust and Friendship", the book gives unique perspectives on the dynamism of the relationship of the two nuclear powers in the context of political understanding, social cohesion, and economic cooperation. The book is an enlightening addition to the body of literature covering the vibrant relationship between the two nations. The book also marks the 70th-anniversary celebrations of diplomatic relations between the two sides and features both historic and modern-day aspects.
Dr. Talat Shabbir, currently serving as the Director of China-Pakistan Study Centre (CPSC) at the Institute of Strategic Studies Islamabad (ISSI), has delved deep to explain to the readers as to how this exemplary partnership has evolved over a period of time. He has thoroughly analyzed bilateral, regional, and global dynamics that shaped the ties between Pakistan and China over the years. Dr. Talat Shabbir has given an engaging account of important data points with respect to the issues, developments, players, and forces at play.
The book highlights the role played by the China-Pakistan Economic Corridor (CPEC) – the flagship project of China's Belt and Road Initiative (BRI) – in solidifying Pakistan-China relations in recent years. At the same time, it informs the readers that there is a lot going on between the two countries other than CPEC.
The author has also discussed how the two countries are joining hands to address future challenges in order to ensure peace and prosperity in the region. More importantly, the book outlines a futuristic approach for the two countries to follow for coming years and decades with a view to take their ties further.
The publisher – Policy Press – is a new entrant in the field serving as the publishing arm of emerging think-tanks Policy Pak and Eurasian Century Institute (ECI), Islamabad.
The book may be obtained from the offices of Policy Press (103, Shah Tower, E-11/2 Phone: 051-8742938) as well as from Mr. Books and Saeed Book Bank in Islamabad.