Aktau, Kazakhstan: 5th Caspian Summit concludes as Caspian Sea Convention sign by Azerbaijan, Russia, Kazakhstan, Iran and Turkmenistan.
Presidents of Azerbaijan, Russia, Kazakhstan, Iran and Turkmenistan signed Convention on the status of Caspian Sea on Sunday here in Aktau.
According to the Convention, the main area of ​​the water surface of the Caspian Sea remains in the common use of the parties, and the bottom and subsoil are divided by neighboring states into plots by agreement between them on the basis of international law.
The Convention fixes a provision on the prevention of the presence in the Caspian of the armed forces of extra-regional powers.
According to the Convention, the five Caspian littoral states are responsible for maintaining maritime security and managing its resources.
The document notes that navigation, fishing, scientific research and laying of main pipelines should be carried out according to the rules agreed upon by the parties. In addition, the environmental factor should be taken into account in the implementation of large-scale offshore projects, and all parties are responsible for damage to the ecological system of the Caspian Sea.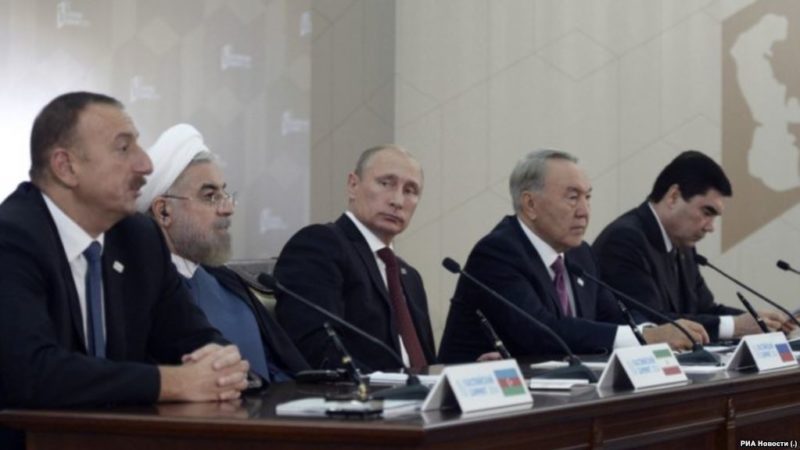 "The Caspian Port city of Kazakhstan will be remembered in the history as historic document of Convention on the status of Caspian Sea was signed here during Caspian Sea Summit," said local media in Aktau.
Following the results of the 5th Caspian Summit, Ilham Aliyev (President of Azerbaijan), Vladimir Putin (President of Russia), Nursultan Nazarbayev (President of Kazakhstan) , Hasan Roukhani (President of Iran) and Gurbanguly Berdimuhamedov (President of Turkmenistan) signed the document defining the legal status of the Caspian Sea.
The host President Nursultan Nazarbayev noted that the signing of the convention will provide an incentive for the development of trade and economic relations of the coastal states. In particular, the documents contain a mechanism for meetings of ministers of economy of the Caspian states. According to Nazarbayev, such meetings should be held on a regular basis, Interfax reports.
He also stressed that the convention on the Caspian Sea will become the guarantor of security in the region. At the same time, the head of Kazakhstan stated the need to work out a separate agreement in the field of military activities in the Caspian Sea.
The Convention comes into force from the moment of its ratification by all participants and the deposit of all five instruments of ratification. The document is of an indefinite nature.