ISLAMABAD, Pakistan: The Minister for Interior Brigadier (retd) Ijaz Ahmad Shah has told the National Assembly that 35.16 percent crime has been decreased in the Federal Capital in the last six months as compared to the previous year.
In a written reply to a question by Gul Dad Khan, the interior minister told that House that there has been no increase in ratio of crime in the Islamabad Capital Territory (ICT).
Ijaz Ahmad Shah told that a total of 1453 crime incidents surfaced in the ICT from January 1, 2017 to April 30, 2018 whereas 935 crime incidents were reported from January 1, 2019 to April 30, 2019, registering a 35.16 decrease.
The interior minister apprised that House that during the period (1-11-2018 to 30-04-2019), the ratio of murder in Islamabad witnessed 5.35 percent decline as compared to the previous year, Zina/Kidnapping 26.76 percent, Dacoity/Robbery 43.34 percent, Burglaries 32.60 percent, and Cycle Theft 48.38 percent.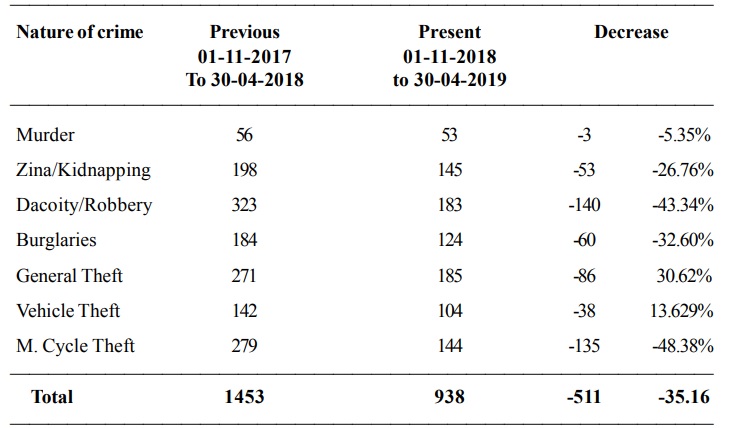 Moreover, the minister told that following steps have been taken by the ICT Police in order to eradicate the said crime within Islamabad:—
Identification of Crime pockets.
Crime cluster Analysis.
Establishment of Nakas.
Data Base (survey of Kachi Abadies)
Intelligence Based Policing.
Combing/ Search Operations.
Random checking of Guest Houses/Hotel/Motel.
General Hold-ups (Surprise checking)
Survey of Rented Accommodation, illegal settlements & Deeni Madaris.
Surveillance of suspected Elements.
Data proofing of released prisoners.
Monitoring through safe city cameras